---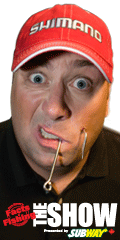 ---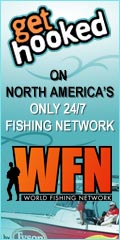 ---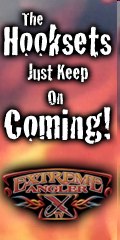 ---
---
Editors & Publishers
T.J. & Monique Quesnel
The Ontario Fishing Network E-Magazine is published 12 times a year on or near the beginning of every month. Our magazine is geared to any angler who enjoys fishing of any type in the wonderfully diverse province of Ontario.
Editorial Submissions: We welcome query letters, but assume no responsibility for unsolicited materials.
Subscriptions: Subscriptions are FREE of charge and delivered via email. You can subscribe HERE:
Privacy Policy: Unlike other publications We NEVER make our subscribers list (your email address) available to any other companies.
Advertising: If you are interested in advertising please email us.
Circulation - 8,000 email subscribers
© 2008 Due North Marketing / Ontario Fishing Network / T.J. Quesnel. All rights reserved. Reproduction of any material without prior written permission strictly prohibited.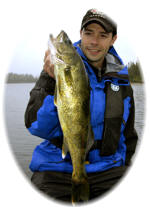 Soft-Stickbait Tips for Smallmouth Bass
By Tim Allard
There's nothing fancy in the design of a soft-plastic stickbait, but its fish-catching ability is far from ordinary. On days when finesse tactics are what's catching fish, a Senko or similar style stickbait is one of a handful of lures I'll rely on to coax smallies into biting. Here are some tips on fishing the simple but effective soft plastics known as stickbaits.
Circle Hooks Shine
Most often, I'll rig stickbaits wacky style for smallmouth bass and use circle hooks to help reduce gut-hooking fish. The key to using circle hooks is not to setting when you feel a fish. Instead, simply apply pressure to the fish by reeling in line and slowly sweeping the rod. Once the line tightens, start to fight the fish. The increasing line tension positions and hooks the fish in the corner of its mouth, doing all the hook-setting work for you.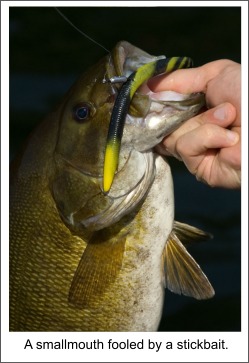 Another tip when wacky rigging stickbaits is sliding a piece of tubing or an "O" ring over the bait at its centre. Rig this set up by running the hook between the bait and the tubing. The tubing keeps baits secured, preventing them from ripping off during the fight and letting you catch plenty of fish on one bait.
Size Matters
I carry a mix of three-, four- and five-inch stickbaits for smallmouth bass. In general terms, I use the smaller ones when I'm sight fishing over shallow rock and sand flats. When I'm using these baits over deep water, say 20 feet, I'll often use a five-inch bait. Fish mood also influences what size of bait I select. If fish finicky, smaller is usually better. If I notice fish are grabbing the ends, but not taking in the entire bait, I'll downsize as well. When aggressive, five-inch baits can mean bigger fish, but four-inch ones will still produce well.
Don't Discount Weighted Hooks
When I'm fishing in deeper water, I'll sometimes use a 1/32 to 1/16-ounce, shank-weighted hook. I like Falcon Lures' K-Wacky Worm Hook. The hook gets the bait in the strike zone faster and I spend less time waiting for the bait to sink. The extra weight also helps me keep a taught line on the offering, so I can set as soon as a fish hits. Although he best action on stickbaits is achieved by letting them freefall un-weighted, adding a small amount of weight doesn't impede their effectiveness.
When working stickbaits in deeper water I use a medium-power baitcasting outfit with a soft tip. The sensitive tip instantly displays a hit. I also use 10-pound test fluorocarbon line for its low visibility underwater. The line's minimal stretch properties also increases the overall sensitivity of my outfit. I find a baitcast reel outperforms a spinning for fluorocarbon line at this pound-test.
Drop Shotting Delivers
Drop shotting wacky-rigged stickbaits is another way to work these lures for smallmouth bass. Focusing on bottom oriented fish, the rig quickly takes the bait to bottom. Once there, the non-weighted bait can be quivered or raised and dropped to fool bass. This presentation shines for smallmouth in deep water situations, especially during tough fishing scenarios common during mid to late summer. As much as it's effective for deep water though, it's also great for sight fishing the shallows when conditions are calm. Three-inch baits, a 1/8-ounce weight, a small hook and four- to six-pound test line is a great rig for working clear, shallow water with a drop shot rig.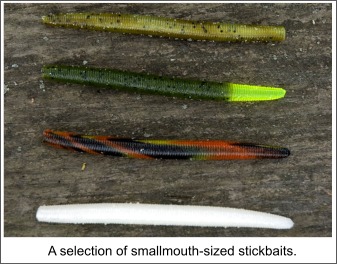 Remember to use a rod with an extremely sensitive tip for drop shotting. This flex allows you to subtly quiver baits for a seductive presentation. A sensitive tip also easily transmits the distinct tap of a hard hit, but will also easily load-up to display when a fish has lightly taken the bait without putting much pressure on the fish.
Stickbaits have proven themselves as productive baits at professional tournaments as well as with hundreds of non-professionals. If you're not using these lures to fish smallmouth, you need to start. They put plenty of bass in my boat each year, not to mention a lot of big ones.
---