---
---
Shallow Spring Browns
By Darren Andrew



The loosening of winters grip on the Great Lakes signifies one of the best times for boat and shore anglers alike to welcome spring with some brown trout action.

Starting in mid to late March, brown trout start to show up in the shallows of the Great Lakes making themselves available to the savvy angler that recognizes the right places at the right times to enjoy this spring bounty.

Looking for the GREEN
Just like real estate, it's all about location, location, location! Spring browns and other trout and salmonids are drawn to 2 things come spring time.

The first being food and the second warm water. Thankfully in the spring these things go hand in hand most of the time allowing an angler to narrow his search down to some very specific spots. Water is warmed in the shallows in springtime by 3 main methods.

1. Runoff…. Runoff from rivers, creeks and connecting bodies of water are all prime areas of warmer water and as such attract spring bait such as alewives and smelt. Browns are never far behind taking advantage of the confined open water and temperatures to actively feed.

2. Radiant heating….. Sun warmed shallows are also key. The physical layout of the shoreline can trap water that is being warmed by the sun creating areas that are sometimes 5-8 degrees F higher then the surrounding water.

3. Wind direction….. Wind can push warm water onto shoreline areas creating areas of warm water that attract bait and trout. Gentle onshore winds that blow over a few days will pile up warmer water along shorelines and especially inside turns of long main lake points. On the other hand, strong winds blowing cold main lake water can cool an area down. Strong offshore winds also push the warmer water offshore effectively killing a productive spot.


Finding the key warm water areas isn't that difficult. The easiest way is to visually look for sections of water in the shallows that have a light "pea" green colour to them. These areas combine slight stained water that warms quicker due to its colour and offers coverage for both prey and trout. These areas in concert with rock points, breakwalls and rock piles combine to concentrate fish.
A transducer mounted temperature probe is a valuable tool this time of year allowing the boat angler to quickly eliminate colder water and concentrate on areas that are warmer then the surrounding area.

Tips: No matter how small the creek or stream mouth fish it!

If you think "man this spot would be a good spot for smallies in the summer" then it will make an excellent spring brown trout spot.

Don't be afraid to work shallow i.e.: less then 6 feet of water

Lowlight times are key to fish activity; the brown is a low light and nocturnal feeder so try to be in these spots during morning and evening. Evenings are usually better early in the season as water has had time to warm up during the day.

Many of the largest browns show up very early in river mouths!

Get away from the crowds, large browns are very cautious and boat traffic can quickly put active fish down.

Presentation
Spring brown trout fishing is almost exclusively a shallow water affair. Flat lining and planer board fishing as well as shore casting are the most effective way of contacting these shallow fish.

Stealth is of utmost importance at this time as the Brown trout is often considered the "spookiest" of trout and larger specimens ranging into the 20-30lb range are exceptionally cautious.

Flatlining
Flatlining the shallows in the 5-15 foot range can be very effective when feeding browns are present. The angler should vary his speed from 1.5 to 3.0 mph as well as constantly trolling in S shape patterns. Trout can be notorious followers and this change in pace and direction is the trigger that has accounted for more then 50% of my fish.

Planer boards.
Inline and mast style planer boards are an extremely effective presentation this time of year, not only do they move the trolled baits away from boats "zone of influence" they effectively more then triple the area that is covered in a single trolling pass. This can be very advantageous when covering large shallows such as beaches etc
.
For smaller boats and anglers that don't want to commit to a large mast style setup, inline boards are a great choice. There are many brands out there such as Yellow Bird ®, Offshore® etc.
In-lines are, in my opinion, more effective when the fish are spooky in very shallow water IE: 5-10 feet. The small footprint and lack of their lack of sound makes them excellent choices if the water conditions allow.

Mast style boards allow a larger spread of lures and the ability for multiple rods to be used allowing more coverage. Masts are also easier to use in choppy water and will not get pushed around by wave action.

Lines are attached to the planer board line by use of a "release" very similar to a downrigger release. This allows the line to come clean off the planer board line and the fish is fought without any hardware between the fisherman and the fish. After a fish is caught or the line cleared the angler simply attaches another release and slides it down the line to take the spot of the rod that is now out of action.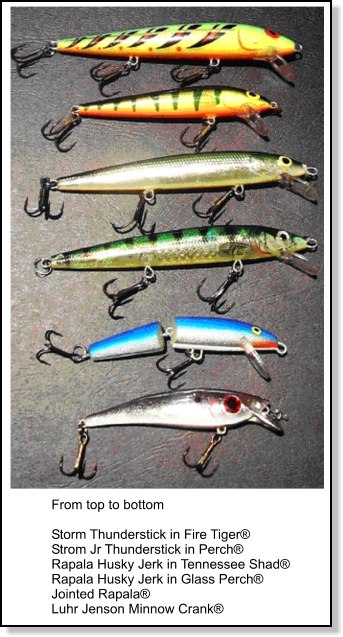 Casting
Casting should never be overlooked for shallow spring trout. Whether it's from shore or boat or even float tube (yes I am crazy) casting is the ultimate stealthy presentation.
Concentrate on smaller structural elements such as breakwalls, creek mouths (no matter what the size) and rock points and piles.

Tackle
Medium high capacity spinning gear as well as medium weight high capacity levelwinds are the setups of choice for shallow water great lakes trout. The extra line capacity comes in handy for running long flatlines and the occasional encounter with a very large brown or bonus Chinook!

Line counter reels are exceptionally good for reproducing distances behind the boat or the planer boards. Rods should be of medium action and ranging in length from 7-9 feet. Longer rods allow the use of lighter lines by absorbing the shock of hard hitting fish. Monofilament lines are my choice of line due to the shock absorbing power and low visibility. Fluorocarbon lines or leaders in the 8 to 14 lb test range offer strength and durability from abrasions from shallow rock.

Superbraids can be used but should be matched with softer action rods to help absorb shock and prevent the pulling out of hooks. Super braids are also sometimes difficult to get a good release tension on them due to there smoothness and can be difficult to setup properly.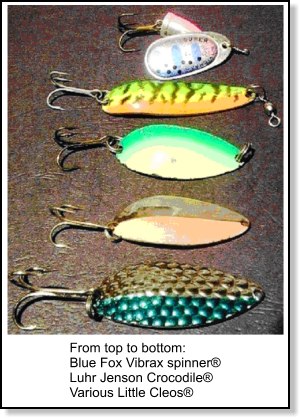 Rods and reels for casting should consist of longer 8-9 foot medium action fast tip rods for extra casting .Limp 6 to 12 pound monofilament spooled to the top of the arbour will also help maximize casting distance.

Quality cross lock ball bearing swivels should be used to help avoid the inevitable line twist that occurs with casting and retrieve spinners and spoons.

Lures
Shallow water browns have an affinity for small to medium size crank baits that mimic the alewives and smelt that are drawn into the warm shallow waters.

My personal favorites are the J-11 series of Rapalas®, Rapala Husky Jerk®, Bomber Long A's® and especially the Storm Jr Thunderstick®.

The Jr Thunderstick® has gained an excellent reputation with brown trout anglers on the south shore of Lake Ontario in the spring. Colours are usually dependent on water clarity with natural colours being preferred in clearer waters and brighter patterns such as perch, clown and firetiger in slightly stained waters. These are general rules of thumb to start with and experimentation should be tried as the light levels change during the day.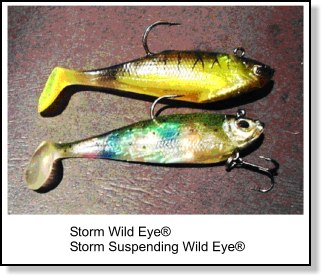 Spoons, whether they be light flutter spoons ran behind boards and downriggers or heavier casting spoons such as the Little Cleo®, Pixie® or Crocodile® are all excellent choices to mimic spring bait.

The rule of thumb for colours also extends to spoons. Orange and gold combinations are exceptionally effective on spring Coho's as well.

Swimbaits are starting to show up more and more in trout angler's boxes of late. On Lake Michigan swimbaits are now the lure of choice over spoons for shore bound casting anglers. The combination of casting distance and life like shape and movement makes them a lethal choice for the shallow water angler.

Baits such as the Storm Wildeye®, Northland Mimic Minnow® and other swimbaits in the 4 to 5 inch range are all excellent choices.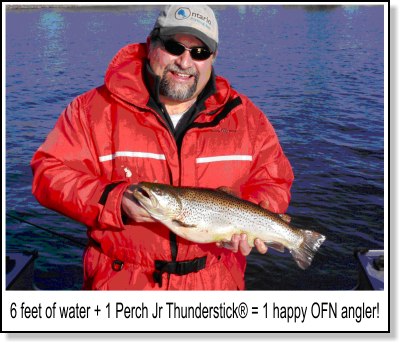 Here's to spring!

There is nothing better then getting out the boat for the first time after a long and cold winter. Keeping an eye out for "the green" and some good equipment should help anyone to connect with the shallow water browns that greet us after a long winter.

Get out there and good luck this spring!
Darren Andrew