---
---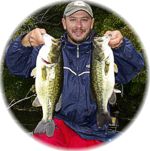 Fooling the Largemouth of Fall
By Justin Hoffman


Hunting trophy largemouth can be one heck of an addictive sport. The pursuit demands patience, stamina, and the utmost in determination. And although wading through two and three-pounders is fun unto itself - it is sliding your net under that rare giant of a fish that truly makes this obsession worthwhile.

A Time of Change
As summer transitions into fall, a series of changes begin to take place. Bright crimson hues take hold of flag-waving leaves, while lake water begins to slowly dip in temperature. The pesky biting bugs have all but disappeared, as have the fair-weathered weekend warriors.
But a change is also occurring within the resident largemouth. Sensing the impending arrival of the winter food drought and dormant stage, bass are beginning to feed heavily, bingeing on prey and rapidly building up fat reserves.

Location is Key
If I could have one common ingredient when chasing fall largemouth, it would definitely be the presence of rock. The reason behind this is two-fold. Crayfish are an integral part of the largemouth diet. And what better place to find these high caloric snacks than in the place they call home.

The other important factor is heat. Acting like a magnet in attracting and holding the skyward sun, rocks provide a thermal layer of warmer water that largemouth bass instinctively gravitate to.

Rock comes in all shapes and sizes, but over the years I've found a few variables that are worth keying in on. Slab rock is one. These large stone "tables" will often find fish holding on top, or just off the edge where it meets deeper water. A collection of boulders, pebbles, slab, and chunk are also prime real estate pieces.

Wood, in conjunction with rock, is also a target when seeking out fall bass. Although large laydowns will frequently hold fish, I've found that the mere presence of a stick or branch is enough to attract and hold a fish on a spot.

Docks that are situated over deep rock are another favourite structure area, and often harbour big fish within their secretive lair.

Where To Start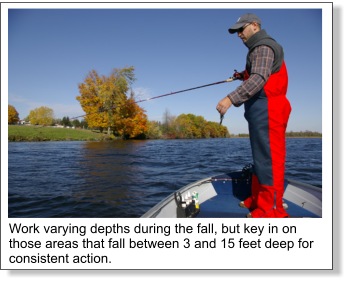 Deep-water lakes make prime candidates for fall largies, whereas shallow, fertile lakes are generally a poor choice. Many of my top lakes average 60 to 100-feet deep, and are almost entirely made up of rock and rubble.

Start with shorelines that drop into deeper water fairly quickly. The kind that has the boat twenty-feet from shore and the sonar reading 30-feet deep. It is then a matter of working your way around a lake, seeking out areas that were discussed previous, and pounding them into submission.

There is no perfect depth for finding largemouth in the fall, but if I could narrow it down, I would put my most effort into water that fell between three and 15-feet deep.

Don't dismiss those warm days that routinely crop up in September and early October. Although still classed as fall time, some of my better days have been when the sun has shone and the shorts came out.
Sunny days will often find fish shallow - especially in chilly weather - while rough or stormy days see them drop a bit deeper.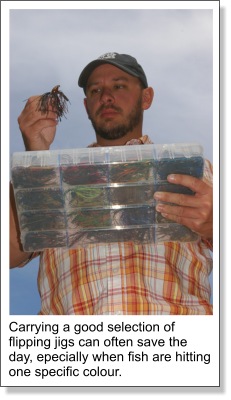 All Hail to the Flipping Jig
No other lure has accounted for more, or bigger largemouth bass come fall than the flipping jig. My favourite style of bait is a ½ ounce model. Deep water or rough and windy conditions will dictate the use of a heavier jig, at which point switching to a ¾ ounce bait is recommended.

Brown, brown/orange, brown/black, and red/black are my top colour choices, although I have also had success with blue, black, and purple. Rattles are an integral part of the system, so make sure your jig is capable of making sound. I rely quite heavily on plastics as trailers, and find that craw chunks in the 3-½ inch size fit my needs perfect.

Although my "go-to" combination consists of a Booyah "Boo Jig" and Yum Chunk, other models made by Berkley, Strike King, and Zoom also fit the bill. The technique I employ during the fall is quite simple. Twenty to thirty-foot casts or pitches are the norm, and unless targeting a specific structure point, accuracy is not a necessity. Allow the jig to fall completely to bottom. Reel up the slack, and proceed to slowly drag or hop the bait back to the boat, making sure to maintain contact with the structure you are fishing.


Fish will hit a jig in a number of different ways. If they are very aggressive, you will feel a definite "pop" on the end of your line. They may hit it with a "tap, tap, tap" sensation. The last way is for them to mouth the bait and slowly swim off. This is easy to distinguish, as you will feel a dead weight and your line will begin moving off to the side. Whichever the case, rearing back on the rod with all your might is mandatory.

Heavy flipping gear is the name of the game when working the rocks. I prefer a Kistler LTX 7'6" heavy action flipping stick. As for line, 20 or 25lb clear monofilament line on a smooth and dependable baitcast reel works for me. For those into braid, choose a test strength in a matching diametre.
Fall time is one of splendour. The scenery is breathtaking and the bass run big, and for all of us trophy hunters, there is no better time of season to reap the phenomenal rewards. Thanksgiving indeed.

---
---
In This Issue
Smallmouth Vertical Jigging Tips By Tim Allard | Fooling the Largemouth of Fall By Justin Hoffman
Become an Outdoor Writer! | Readers Pictures | Product Showcase unHookem Hook Removers
Get North! Stressed? need a vacation? -Visit Get North to find your Northern Ontario get-away!
Fishing Lodge Classifieds -Come fish your heart out at one of these many Lodges, Camps and Resorts.
Archived Articles - Click here to see articles from past E-Magazines