---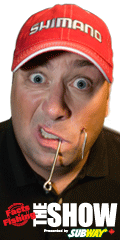 ---
---
Editors & Publishers
T.J. & Monique Quesnel
The Ontario Fishing Network E-Magazine is published 12 times a year on or near the beginning of every month. Our magazine is geared to any angler who enjoys fishing of any type in the wonderfully diverse province of Ontario.
Editorial Submissions: We welcome query letters, but assume no responsibility for unsolicited materials.
Subscriptions: Subscriptions are FREE of charge and delivered via email.
You can subscribe HERE:
Privacy Policy: Unlike other publications We NEVER make our subscribers list (your email address) available to any other companies.
Advertising: If you are interested in advertising please email us.
Circulation - 9,000 email subscribers
© 2009 Due North Marketing / Ontario Fishing Network / T.J. Quesnel. All rights reserved. Reproduction of any material without prior written permission strictly prohibited.
Panfish Jig Details
By Tim Allard

If you're a fan of panfish you undoubtedly have a good selection of jigs in your tackle box. Baits ranging from 1/32- to 1/8-ounce are common weights for catching perch, sunfish and crappie. Yet beyond their weight, another big factor is how these tiny jigs are dressed. When fish are finicky this is a critical detail. Read on for a review of some of the top panfish jig styles you should have in your tackle box.


Feathers and Fur
Hand-tied jigs are often deadly on panfish when working baits beneath floats. Bucktail and marabou are perhaps the two most popular materials. While chenille and various other types of feathers add more options in patterns. Undoubtedly the fish-catching ability of these baits lies in the life-like movements the materials convey underwater. When suspended beneath a float, the slightest ripple in the water or rod tip twitch results in a pulse, flair, or flutter in the bait. Many of these moves are often too temping for an inspecting panfish and often trigger strikes. When faced with tough fishing conditions, feather and fur tied jigs are often what I go to first.

Tinsel

Tied in a similar fashion to a straight bucktail jig, tinsel delivers something hair cannot: flash. Silver, gold, chartreuse, and orange are some of my favorite colors in tinsel jigs. These baits do well suspended beneath floats, but can also be deadly when cast out and then worked back on a hopping retrieve. The flash combined with a darting, swimming motion replicates the movements of a tiny baitfish. When panfish are munching on minnows, tinsel jigs can really shine.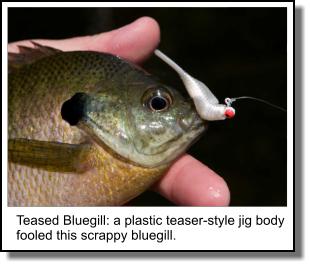 Plastics and Soft-Bait
This category of panfish jig bodies is extremely vast. Panfish tackle is overflowing with different soft-bait body designs for jigs. Twister tail, tubes and shad-bodies baits are two well-established patterns for any sport fish and pannies are no exception. Teaser tails are a finesse profile that can also be deadly at times. Most plastic jigs can be worked on a slow, jigging retrieve or suspended beneath a float and occasionally twitched. As expected with plastics, baits come in an array of options exist in natural and hot color patterns. Scent infused soft-baits give anglers even more choice. Make sure you have some scented baits in you box, they consistently coax hits from finicky fish for me during tough bites.
Spin Jig
In a category of its own are jigs featuring spinners. One option is spin jig wire shafts that attach to the line tie of a jig head. The other choice for anglers is to use jigs with spinner blades moulded directly into the head. Regardless of which you choose, these bladed jigs have a way of catching big crappies and perch. Better suited to casting and worked with short, hopping, jigging retrieves, the flash and vibrations of these blades only heightens the fish-catching power of a standard jig.

If you're serious about panfish, you need a well-stocked tackle tray filled with different jig styles. Throughout the season, certain jigs will out produce others. To ensure you're prepared for whatever preferences pannies have on any given day, carry a mix of all the jigs represented above.

---