Summer is finally here and for many Ontario fishermen and women this means a trip to their favourite bass hot spot. There are many different styles of bass fisherman, whether you are a seasoned tournament angler or the weekend warrior that fishes around the cottage, smallmouth fishing can become a complete addiction. Smallmouth bass have often been referred to as the hardest fighting freshwater fish pound for pound.
Tube Jigs

Tubes jigs exploded into the market and anglers tackle boxes several years ago and have now become a must for any level of angler. These crayfish imitations can be hoped, dragged, slowly trolled and even rigged weightless during an exciting top water bite. Texas rigged tubes are dynamite for flipping and pitching to submerged brush, docks and rock piles. Carolina rigging a tube is another tactic all anglers should use. It is a simple slip sinker to barrel swivel then to your tube jig. Bullet sinkers, egg sinkers or actual sinkers that are custom made for Carolina rigging are all available at any tackle shop and work very well. Another option for the Carolina rig would be to insert an internal rattle. This will help imitate a crayfish swimming along bottom making subtle ticking sounds from their claws and shell on rocks. The colours of tube jigs should first be focused on the same colour the resident crayfish resemble but do not be afraid to pitch chartreuse or a bright pink. Drench your tube in scent, Dr. Juice in garlic flavour has been hot and also Berkley has a line of various scents to add to your tube. Toss your tube out with a spinning outfit in the 6`6-7`6 length spooled up with 6-12 pound line.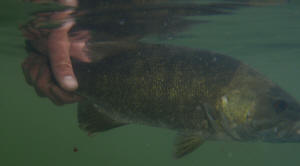 Worms

Plastic worms come in every size, colour, scent and profile imaginable. Senko style worms are many anglers confidence bait usually rigged Texas style and pitched to classic smallmouth areas. Often these baits get over worked and the fish just do not chase them. After casting your worm let the bait sink to the bottom and rest motionless for 10 seconds. I'm sure many regular bass anglers can relate to my own experience of uncovering this pattern. This began by back lashing my bait caster only to find a bass on after untangling my birds nest. This happened to me twice that day before I realize what the fish were telling me. It was as simple as casting out, engaging my reel to tighten my line slightly and stare, I mean stare at my line. Any odd or weird movement and I would reel up to the fish and sweep the rod back. Internal glass rattles can also be added to any worm by simply slipping the rattle into the body of the worm. Wacky rigged worms are also a relatively new tactic which the cast pause method is a must. For pitching these worm combinations around I use a 6'6 medium action St. Croix bait casting rod, a high gear ratio reel rigged with 8 – 12 pound fluorocarbon line.
Crank Baits

Cast these baits as far as your arms will let you. Long rods with braided line will increase casting distance but in clear water especially, fluorocarbon leaders should be tied on for stealth. Cast crank baits to shorelines, reefs or any other structure you would fish with other lure options. Bang these baits off rocks especially the square lipped cranks that are specifically made for slamming structure. When retrieving the crank bait incorporate different speeds. First fan cast the area you are fishing with an aggressive fast pace then go back over the same area with a slower speed of retrieval. Some days small changes such as lure speed can be vital to locating and catching bass on crank baits. I recommend a 7 foot glass rod for this method. These soft tipped rods are perfect for setting the hooks into bass while cranking. No need to rip the lips off the fish as if you were flipping heavy cover but a simple twist of your hips with the simple side sweep of the rod is all you will need to bury the hooks into the fish's mouth.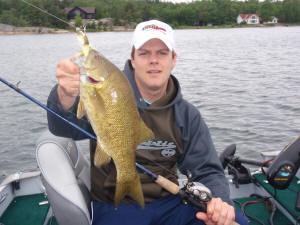 Spinner Baits
These are opening weekend bass killers. If the water temperature is in the sixties you cannot go wrong by throwing a spinner bait. You can burn these baits across the top of the water column, work them at a normal pace through the middle or slow roll them down deep over top of a weed bed or rocky shoals. Single and tandem blades are the common blade designs but now three and four blades are available. Many different colours are produced from tackle companies but white/ chartreuse with a double blade is by far my biggest producing spinner bait. A 6'6 to 7 foot medium action bait caster with a fast action tip works great for casting spinner baits to small mouth bass.