---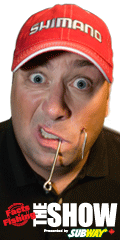 ---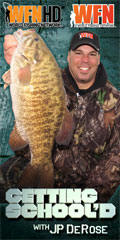 ---
Editors & Publishers
T.J. & Monique Quesnel
The Ontario Fishing Network E-Magazine is published 12 times a year on or near the beginning of every month. Our magazine is geared to any angler who enjoys fishing of any type in the wonderfully diverse province of Ontario.
Editorial Submissions: We welcome query letters, but assume no responsibility for unsolicited materials.
Subscriptions: Subscriptions are FREE of charge and delivered via email.
You can subscribe HERE:
Privacy Policy: Unlike other publications We NEVER make our subscribers list (your email address) available to any other companies.
Advertising: If you are interested in advertising please email us.
Circulation - 9,500 email subscribers
© 2009 Due North Marketing / Ontario Fishing Network / T.J. Quesnel. All rights reserved. Reproduction of any material without prior written permission strictly prohibited.
Shallow-Running Cranks for Weed-Relating Largemouth
By Tim Allard
Weeds are one of the most important types of cover in largemouth bass fishing. Many anglers have become conditioned to toss Texas-rigged plastics, flipping jigs, topwater frogs and spinnerbaits around weeds because theyíll not foul easily on stalks and leaves. These lures will work well, but sometimes shallow-running crankbaits deliver better catches around weeds. If youíre not tossing crankbaits around weeds, youíre missing out on a big-fish producer.
Hereís what you need to know about this presentation in shallow water scenarios.

Why Fish the Weeds with Cranks
Iíll be the first to admit youíll get hung up when working crankbaits in weeds. The odd hang up is worth it though because crankbaits deliver a presentation that weedless baits canít deliver. Their wobbling creates turbulence in the water and internal rattles really appeal to largemouth on certain days. Add to these traits the reality that many anglers are reluctant to toss baits around weed areas, so with a crank youíre likely offering bass a bait they havenít seen in a while, at least in weedy cover anyway.

Although occasional snag is the nature of this presentation, you can often minimize foul-ups by choosing the right baits for the weed area youíre fishing. For this reason, I like floating, shallow-running crankbaits in skinny water, weed areas.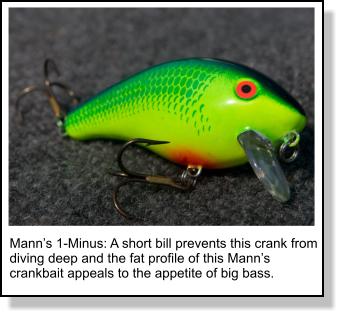 Shallow Runners
Shallow-running crankbaits are extremely effective for fishing weed areas. Some baits literally skim only inches below the surface while others dive to a few feet. Which style of bait you opt for depends on the weed conditions youíre fishing. Examples of these lures include Mannís 1-Minus series, Bagleyís Wakeín B, or Rapalaís DT Fat Series.

In most shallow, weed conditions, I like to use a floating crankbait designed to stay in the top foot of the water column, but often keep the bait bulging just beneath the surface on slow retrieves. This mimics an easy and vulnerable target for bass in the area. These particular cranks afford me plenty of advantages in the skinny water.

Top Casting Spots
As the bait has a shallow running depth it remains visible during the retrieve. This lets me watch the lure and steer it around obstacles and through floating weed areas. Iíll guide the crank through sparsely grown lily pads or along the edge of surface plants, like reeds or arrow heads. Staying close to the surface also makes the bait perfect for running over weed tops without digging into the vegetation. If I bump a log or rock, I stop the retrieve and often the floating crank will back up and out of the obstruction. As baits float Iíll often pitch them into large pockets. If thereís a bass around I usually only get in a few turns of the reel handle before a bucketmouth crushes the crankbait.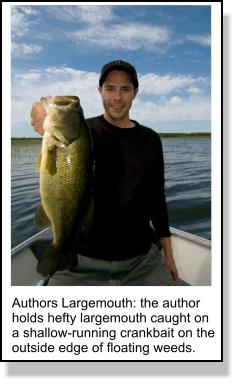 The Right Weed Stick
When casting shallow-running crankbaits around weeds, the workhorse of my line up is a heavy-power, fast-action casting rod. This stick easily handles the heavy, plastic crankbaits I like to use. Its power also easily pulls big fish quickly from heavy cover, ensuring I donít give bass an inch of string to tangle my line in the underwater obstacles.

As Iím often using this pole for shallow water presentations, I spool it up with 17-pound test, abrasion-resistant monofilament. Monoís floating characteristics keeps the lure running high in the water column. Also, because Iím using such a stiff stick, I like that mono offers a bit of stretch to help bass engulf the offering. If you choose mono, regularly inspect your line for wear and tear when working cover and retie at the slightest sign of weakness.

Weeds are one of the most important types of cover in largemouth bass fishing. It might seem counter-intuitive to toss a multi-treble hook bait in a snag-laden area, but cranks can cough up big bass out of weeds when other lures donít produce. Yes, casting these baits requires patience as occasional foul ups are part of the game, but the efforts worth it when you lip a sow from the green caught on a crank.

---