Belly Boating:
Eco-friendly Fishing
by Rob Romberg
The morning sun was still hidden behind the hillside as I moved slowly, 20 feet or so from shore. My belly boat made no wake and was so silent that I could hear a squirrel rummaging on the forest floor nearby. I glanced over my shoulder every now and then to see where I was going as my means of propulsion was the slow relaxing kick of my flipper clad feet.
My fly line stretched out from my rod tip, disappearing into the glass calm water. Yes, I was slow trolling a streamer fly on a full sink line in a lake that had no trout in it, yet I was confident I would soon be into fish. I continued on along the shoreline for another minute when I felt a hard tug on my line and watched as my 9-foot fly rod bent in the direction of the pull. Instinctively I pulled back and a respectable small mouth bass broke the surface in an attempt to shake the fly from its mouth. I kicked out towards open water as I battled the energetic fish. Minutes later I directed the fish into my landing net, snapped a picture of the fine specimen and then released it. I checked my fly for damage then tossed it back into the water, feeding out line as I began my slow, rhythmic pace along the shoreline again.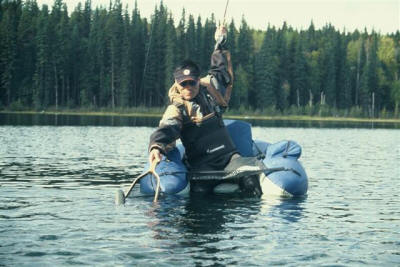 Pontoon Style
Ideal For Ontario
Fishing from a belly boat or float tube is nothing new. Anglers have been enjoying this peaceful, intimate style of fishing for decades. I was however somewhat surprised when I recently moved back to Ontario from B.C and noticed the lack of these manually propelled fishing vessels on the water. Ontario definitely has more than its share of water bodies suited for this type of transportation and the majority of fish species found in Ontario waters can be taken from what I refer to as the floating Lazy Boy chair. Yet this relaxing method of fishing hasnít caught on here like it has in the western provinces. In this time of concern for global warming and the threat of pollution on our pristine waters, it just stands to reason that a more eco-friendly option of fishing should be investigated.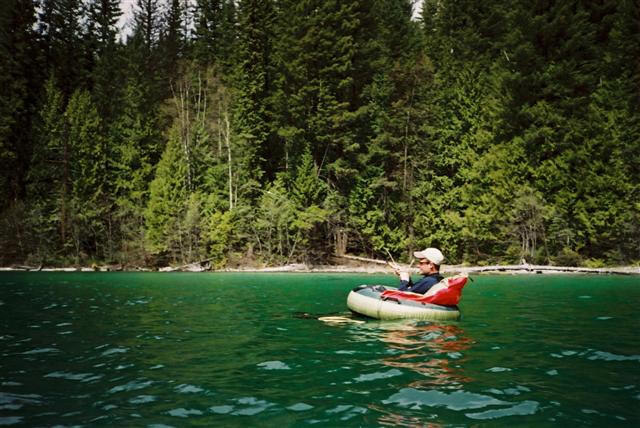 Allows access to remote lakes
What You Need
There is special equipment needed if you plan on trying this exciting mode of water travel. First off you need the craft itself. Their design is actually quite simple. Most consist of an inner tube encased in a nylon or plastic jacket that has a fabric seat sewn into it. They are buoyant and quite stable. Belly boats are available from several manufacturers and range from cheap almost disposable types to quality crafts that have a long life span. The price range also varies considerably but keep in mind that you normally get what you pay for. Belly boats are still one of the cheapest ways to get out on the water. Next you will need chest waders. Hip boots or waist high waders wonít work as you sit in the water. Both neoprene and breathable waders can be used. Neoprenes are better for cold-water conditions and breathable waders rule during the warm summer months. Next are the flippers, which are the propulsion system for the belly boat. Flippers come in many styles and it is up to the individual to find a pair that best suits them. Finally, a quality life jacket or floatation device is imperative for safe belly boating.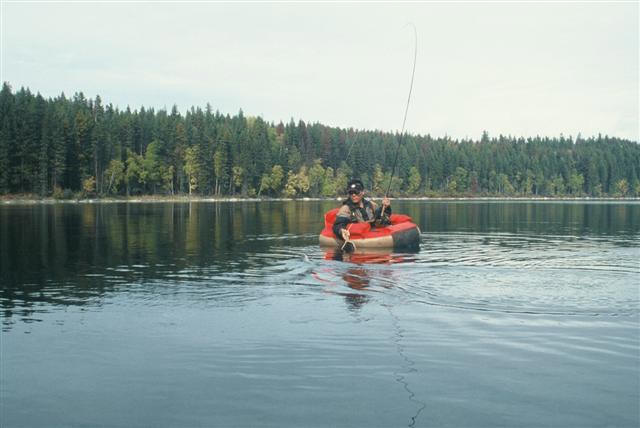 Intimate way to fish
Versatility
The belly boat is very versatile and as a result almost any fishing technique can be applied. Donít think for a minute that they are restricted to fly fishing only. For example I remember one late afternoon in July, I had finished work early and had a couple hours to kill so I decided to head down to do some fishing under the bridge that links the mainland to St. Joseph's Island near Sault Ste. Marie. Due to my limited timeline I decided to fish from my belly boat. I could be in the water fishing within minutes with my belly boat as compared to the time it would have taken to get my big boat in the water. I knew the walleye (pickerel to the locals) were feeding in the area so I selected my medium action 7-foot St. Croix with an ambassador reel as my weapon of choice. On the business end, I tied on a 1/4 ounce jig with a 4-inch black Mister Twister. Minutes after arriving at the bridge I was drifting with the current under the bridge as my jig bumped along the bottom. The first strike came on the first pass. After a heart revving battle, a beautiful golden walleye of about 20 inches flopped in my net. I released the female as I usually release my first fish. I dropped the jig back down and minutes later I was fighting a similar battle. This fish was a little smaller, about 18 inches, so I put this one on the stringer and continued fishing. I landed several walleye that evening, one close to 25 inches. On my last pass before calling it a night a small aluminum boat approached, the smoke puffing 2-stroke motor chugged away as the boat passed. The two elderly gentlemen seemed baffled at what I was up to in my unusual craft. Once past I heard one of them comment over the noise of their motor that, "it takes all kinds." I chuckled to myself as I kicked back to shore with my dinner trailing on my stringer. As we've all heard before, "variety is the spice of life" and having a variety of fishing methods can definitely make your fishing experiences spicy. Take time to try this new method and Iím sure that your experience, like mine will make you thankful you did.