Late Ice Opportunities
By Tyler Dunn
Windy, minus twenty and whiteout snow squalls. This is what every ice fisherman puts themselves through during the winter months except for March and into early April for some parts of the province. This is when the weather is changing; the sun beams down with unbelievable heat and the fish are often on a feeding frenzy. Every species has certain times of the year when they are most susceptible to becoming caught by anglers. Lake trout and walleye are my favourite species to target during late ice because good numbers of fish become active and many lakes offer world class size fish throughout Ontario. These tips will help you locate and catch fish during the best part of the ice season.

Lake Trout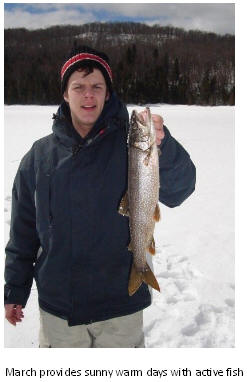 When and Where
Lake Trout feed furiously on reefs, flats and at the mouths of inflowing water sources throughout the year. During early March I start fishing shallow during low light periods targeting fish that patrol the shallow flats for a meal. These low light periods grow longest during the final weeks of the ice season because all of the snow from the year still occupying the ice. When the snow begins to melt from the warm, bright and beautiful days of early spring, low light conditions diminish and lake trout can be found roaming different depths beneath the ice. Start first by jigging off the bottom, then reel up at increments of five feet. Work your bait at these various depths for a period of time before moving to the next hole.

Favourite Baits
My two favourite styles of baits for Lakers are fluttering jigging spoons and various scented tube jigs in the 3-4 inch range. Experiment with different jig head weights throughout the day. I will normally start out with a 3/8 ounce to get my bait down quick for active fish. I then change to ¼ ounce and often by the end of the day I am usually down to 1/8 ounce jig head. The slow swirl received from a light jig head gives the tube a deadly decent. Match the colour of your bait to the forage in the lake. If perch are the main forage, a fire tiger pattern would be a good choice. If smelt, shiners or ciscoes are the main forage use white, black and silver colour combinations. Medium - heavy to heavy action rods are a must for battling these giants through the ice. Double your odds by setting a tip-up with a live bait rig for your second line (where legal).

Walleye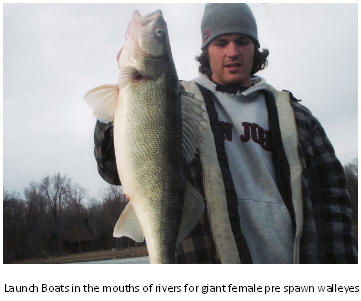 When and Where
Classic walleye spots shine during mid March and into April. Spawning areas such as river mouths and rocky shorelines produce most action throughout the day and night. When river mouths start to open up into lakes safely launch a small boat into the open water and jig for chunky pre-spawn fish. Be sure to check Ontario's fishing regulations for closing and opening dates for the walleye season. Be careful seasons vary throughout the province.

Favourite Baits
Strikes are vicious as the fish are feeding due to the upcoming spawn. A medium action spinning rod is best for fighting walleye through the ice. I always begin jigging with a glow Shad Rapala or fire tiger Jigging Rapala. Northlands Bucket Shot spoon is my second choice which I always have rigged next to me to save time tying. For my second rod down I use a dead stick close by with a spoon and dropper rig or simple jig head with a minnow. A dropper rig consists of a Williams or any flutter spoon with the hook removed and a barrel swivel put in its place. Tie a 2-10" leader of fluorocarbon line to a single hook with a minnow hooked behind the dorsal fin allowing the minnow to struggle and in turn gives the spoon flash. When fishing from a small boat in the mouth of a river use an electric trolling motor to slowly work the area with a jig and minnow. Pay close attention to your electronics to locate schools of staging fish and mark on your GPS potential pockets where fish might hold.

---
In This Issue
Tips to More Ice Perch
By Tim Allard
Late Ice Opportunities
By Tyler Dunn
Fisheries First
by Pete Maina
Ice Out Trout!
by Steve Robowthan
Facts of Fishing Seminar Series
Don't miss your opportunity to catch all the excitement, entertainment and information that is packed into Facts of Fishing THE SHOW every week on television LIVE!

2009 Toronto Sportsmans Show
This March Break learn a valuable lesson about the outdoors without stepping a foot outside in the cold or inside the classroom.
Get North!
Stressed? need a vacation? Visit Get North to find your Northern Ontario get-away!
Fishing Lodge Classifieds
Come fish your heart out at one of these many Lodges, Camps and Resorts.