St. Croix develops the first elite musky "Situation Sticks"
Legend Tournament Musky rods perform the impossible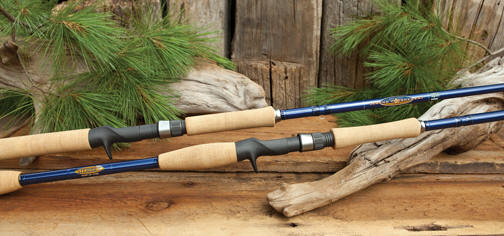 When mega Cowgirl® bucktails arrived on the scene, St. Croix had already envisioned and crafted the perfect rod to manhandle the big blades. And when mega Bull Dawgs® became household amongst muskie madmen, St. Croix's rod-builders—themselves hardcore musky-ites—were already perfecting these muscular models. What's next? From deep inside Muskyville, St. Croix Rods has just released the supreme toothy-tools to tame the next world record.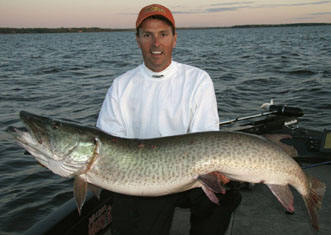 It's no accident that nearly every top musky fanatic in the game shares one thing in common—St. Croix rods in the boat. But the modern musky angler wants a rod for every situation and lure-type in their box. That's the M.O. behind St. Croix's new Legend Tournament Musky Rods—each rendition lends exceptional advantages for each particular musky method.
Every "Legendary" stick to leave Park Falls is imbued with progressive St. Croix rod-building elements. IPC® tooling technology, for one, yields seamlessly smooth actions; ultralight Fuji® K Series Tangle-Free Concept Guides with Alconite® rings and polished frames shoot braid and fluoro lines while shedding tangles in the process; Advanced Reinforcing Technology (ART™), an exotic carbon fiber material, infuses a 10X magnitude in strength without adding a snitch of weight or diameter. Musky hounds dig "strength," it's key for flinging one-pound baits or doing a spike-driving hookset. And if they're honest, they'd rather have lean strength than something that loads like an oak.
That's the techno-talk. But we'll shut up now, and let a real "Musky Hunter" chime in: "The Legend Tournament Musky rods are the ultimate musky hunting tools," says muskellunge legend Jim Saric. "St. Croix uses its amazing nanotechnology to give these rods an air-light heft. Their lean weight seems impossible for something with this much strength and power. Downsized Fuji guides allow for longer casts, while the palming grip on the beefier models makes it comfortable to handle big reels.
"You can't believe how comfortable it is to fish a Bull Dawg all day with one of the 9-foot Legend "Big Nasty" rods," Saric adds. And if you like giant bucktails, the 8' 6" Sling Blade gives you tireless long casts, smooth boatside maneuvers and tremendous hook-setting power."
Perhaps Saric's true secret weapon, however, is his "Long Ranger," so called for its talent for launching midsize baits like projectiles. "The Legend Tournament Musky Long Ranger makes rocket casts. The split grip— which further reduces rod weight—is designed to place your hands in the optimal positions. This creates the perfect lure-launching fulcrum. And then the split grip tucks under your arm for a totally natural presentation. This, plus minimalist Fuji K Series guides shoot line from reel to tip with nearly zero friction. For power fishing smaller blades, topwaters or minnowbaits, the Long Ranger is the bomb."
So carpet-bomb away, or strike surgically, because St. Croix's Legend Tournament Musky series is prepared for any and all battlefield situations.
---
Get North!
Stressed? need a vacation? Visit Get North to find your Northern Ontario get-away!
Fishing Lodge Classifieds
Come fish your heart out at one of these many Lodges, Camps and Resorts.