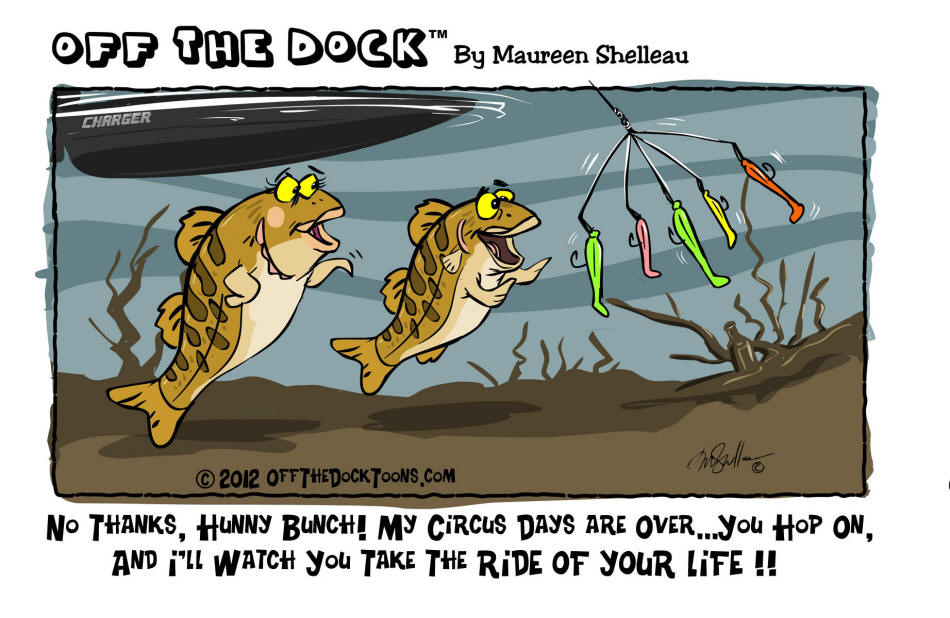 Ice More Winter Bows!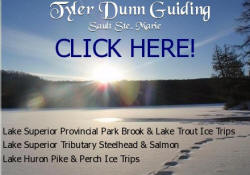 By: Tyler Dunn Tyler Dunn Guiding
Arguably the most sought after fish during the spring and fall months. Rainbow trout receive relatively low angling pressure throughout the winter. Yes, there is a ton of other species to target once our lakes tighten up but if youíre looking for a line stripping, extremely intense battle through the ice. Rainbow trout is where itís at!

Typically, I am a run and gun style of ice angler. I would much rather look for fish instead of waiting for fish to come to me. This is my strategy when Iím searching the hard water for almost any other species other than rainbows. One of the main reasons for this is because I like to set still lines rather than jig on most occasions. Rainbows like to cruise; not very often will you find a bunch of them stacked up in one location. I concentrate most of my time on the first drop off along a shoreline, island or point. These are typically drops of only a few feet but these are the ideal grounds for rainbows to cruise along eating minnows, crayfish and invertebrates holding along the edge. Deep water access on these spots is also another key factor when choosing a spot. Under the right conditions, rainbows will cruise these areas all day but usually they move up from the deeper water to feed during lowlight conditions.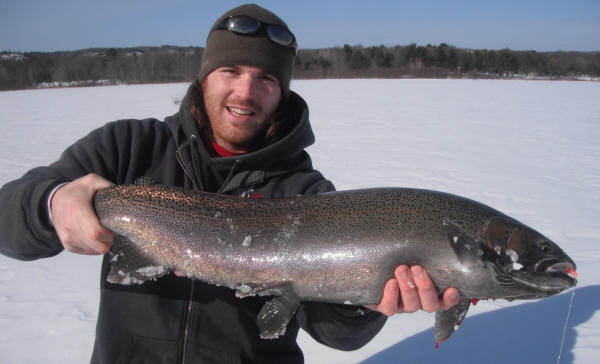 Many often stew about what to use for finicky winter bows. When targeting inland rainbows. I have done well using a very lively small shiner, skin hooked on the dropper hook below a small Little Cleo or Williams spoon. The dropper consists of a 16-24Ē piece of 6-8 pound Raven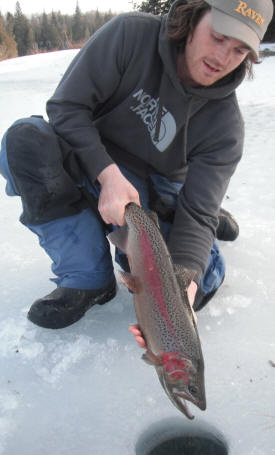 fluorocarbon to #6 or even #8 Raven Specialist hook. Skin or tail hook the lively minnow and let it do all the work for you. Shiners tend to die much quicker compared to a dace minnow, so always check your minnow every 30-40 minutes and replace any dead or dying minnow with a fresh one.
Small and even micro baits receive much better results on Great Lakes rainbows compared to inland. Tear drops, jigs and spoons tipped with wax worms and wigglers (mayfly larva) produce outstanding results towards the end of the ice season at the mouths of rivers. In fact, I iced my biggest rainbow through the ice last season on a Northland Gypsy Jig tipped with a wax worm at the mouth of a tributary. Again, a simple rod placed in a holder is my favourite way to target them. Although there have been days when subtle jigging has out produced a set line. My jigging technique is very simple. Bounce the end of your rod tip or very lightly swim your jig up and down a few inches. If there is bonus whitefish around, they will also take this presentation. Even though the mouths of rivers can offer the best action, be extra cautious in these areas. Ice can deteriorate extremely fast this time of year.
Now, get out there and tap into Ontarioís world class population of rainbow trout through the ice!