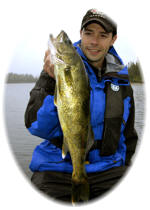 Vertical Jigging for Autumn Walleye
By Tim Allard*

Autumn can be a bitter-sweet season when it comes to fishing. Early fall's a period of transition when walleye move from summer haunts to deeper, winter holding areas. Patterning them during their travels can be challenging. The good news, however, is by mid to late fall walleye are often concentrated in predictable areas. Locating these fish will deliver steady action as they feed steadily to bulk up for the winter.
The Virtues of Going Vertical
A fundamental advantage of vertical jigging is precision. With proper boat control and the right vertical presentation you can dissect specific structures whether fish are belly-to-bottom on a hunger strike or cruising and voraciously hunting. Sometimes too jigging is also the only option because of space constraints. Spots on small rivers, zones with quickly varying depths, or crowded community holes are examples when trollingís may not be practical.
I must admit I have a weak spot for jigging, but itís important not to gamble with success and use this method exclusively - you've got to know when to troll them. If boat control is a challenge you might be better off trolling. Walleye are also a fickle breed and what turns them on one day might not be as effective jigging. Even though jigging can be a deadly tactic, accept that in late autumn a wide-wobbling crankbait is also a consistent producer and sometimes the better presentation.
Reliable Rivers
Rivers are excellent fall fisheries as walleye make predictable moves as winter approaches and turn overís non-existent. Current is a key ingredient to walleye whereabouts. Expect walleye to move out of shallow stretches and slip into deep holes and slack water areas close to fast-moving water. Some productive river spots are found downstream of islands, rocky reefs, bridge abutments, bars, or points.
Holes around eddies are particularly hot in autumn. These typically form around river bends, however, main channel obstructions (whether visible or submerged) will also create these swirling walleye magnets. Wash-out holes like those found below culverts or beneath dams are other common fall gathering areas.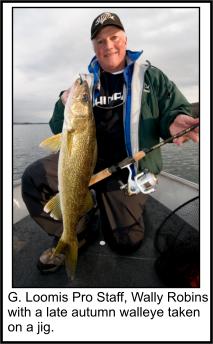 Also, be sure to fish river tributaries, particularly the deeper drop off that often leads into the main river channel. Balls of baitfish stack up here and walleye schools are never far away. This leads to an important point: forage is a critical factor in fish location. Certain areas may appear good bets when reviewing a map but they can be a bust without bait. If you think you've found good structure but aren't marking baitfish on your sonar and haven't boated any walleye, it's time to fire up the outboard and locate the Marble Eye buffet.
Lakes: The Later the Better
Lakes provide excellent autumn walleye fishing. Shallow, fertile lakes that don't stratify will steadily produce throughout autumn. Large, deep lakes, however, are better after turnover once walleye's deep-water patterns are established.
Look to classic structures for walleyes on lakes, including points, saddles between islands or reefs, and humps. Focus on the nuances of these structures, like rock piles or an uprising in depth. Finding smaller fingers off of structures will also hold walleye as they serve as routes for travel. Also, be on the lookout as well for inside or outside contour bends in breaklines. The deep weed edge and drop off of large, fertile bays are other reliable autumn hotspots on lakes.
Heavy Metal Heroes
A good rule of thumb when vertical jigging in autumn is beginning with larger baits and an aggressive tempo. When walleye are rising up off bottom to crush a bait on its initial drop itís the sign fish are active. You'll still catch fish jigging slowly, but you'll catch more by increasing the pace. Generally too, bulkier baits catch bigger fish in autumn. For hostile walleye I use baits between 3/8- to 1-ounces. Jigging spoons are well matched to probe the deep haunts of autumn walleye. Plus, a spoon's thin profile helps it quickly sink into the strike zone, while its bottom hook also provides an excellent hook-up ratio. Iím particularly fond of rattling models to attract fish.
Jigging minnows are another quality autumn bait. Their lifelike profile and dying-minnow arc action appeal to ravenous walleye. In a similar vein, bladebaits also work well in fall. Their tinny, tight vibes drive walleye wild, attracting fish and evoking reaction strikes.
It's a good idea to carry all of these bait styles as walleye can have profile preferences. Remember too that strikes often replicate the action intensity of your offering. So if you're jigging with the gusto of a java addict (which works when walleye are turned on) be ready for hard strikes.
Jigging spoons, swimbaits and blade baits can also be presented on more toned down jigging sequences with lazy lifts and slow drops. Be sure to add subtle shakes to your jigging sequences to trigger hits. Any of the raise-drop-hold moves you'd use to present these offerings beneath the ice work well in autumn's cold water.
Seduce Fickle Fish with Jigs
In an ideal world walleye would always be in an antagonistic fervour but sadly this isn't reality. When fish are inactive, forget about flamboyant and flashy and go with the more refined action of a jig. When fish are fussy my go-to bait is a bucktail jig tipped with a nose-hooked minnow or Gulp! Alive! Leech or Minnow to boost the offering's profile and its olfactory appeal.
I have all the confidence in bucktails to convert scrutinizing walleye into snackers. In the water the jig's hair comes alive in a seductive sway like a model's mane in a shampoo commercial. When fish are biting light outfit the rig with a stinger hook. Other good fall jigging baits include big soft-baits like lizards, tubes, jumbo leeches, jerk shads, and a grub and live minnow combination.
Most often I raise and lower the jig on controlled slack in autumn. Adding short snaps and hops do well to attract fish. Shakes and pauses will regularly instigate strikes.
Autumn fishing action gets going as the tree leaves start falling and by the time the first flurries arrive walleye are often holding in predictable late-autumn areas. The season can be tumultuous when it begins, but late fall can deliver some of the best fishing of the year and vertical jigging will deliver consistent and quality catches.
Photo Captions
Robins Walleye - G. Loomis Pro Staff, Wally Robins, with a late autumn walleye taken on a jig.
Storm ThunderBlade - Storm Luresí ThunderBlade is a dynamite vertical jigging bait for cold-water Ďeyes.
*Tim Allard of Ottawa, Ontario is a hard-water expert and author-photographer of the newly released book, Ice Fishing: The Ultimate Guide. For more information visit: www.helipress.com/product/ice-fishing-138.cfm
Editors & Publishers
T.J. & Monique Quesnel

The Ontario Fishing Network E-Magazine is published 12 times a year on or near the beginning of every month. Our magazine is geared to any angler who enjoys fishing of any type in the wonderfully diverse province of Ontario. Editorial Submissions: We welcome query letters, but assume no responsibility for unsolicited materials. Subscriptions: Subscriptions are FREE of charge and delivered via email. You can subscribe HERE: Privacy Policy: Unlike other publications We NEVER make our subscribers list (your email address) available to any other companies. Advertising: If you are interested in advertising please email us. Circulation - 12,000 email subscribers © 2010 Due North Marketing / Ontario Fishing Network / T.J. Quesnel. All rights reserved. Reproduction of any material without prior written permission strictly prohibited.