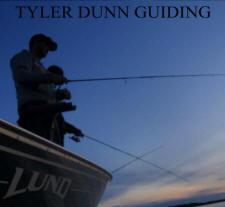 Ice Fishing Lake Superior Park
By: Tyler Dunn Tyler Dunn Guiding
Lake Superior Provincial Park is located directly on the Trans Canada Highway only 90 minutes north of Sault Ste. Marie. "The Park" as locals refers to it as is one of Ontario's true trout gems boasting 1600 km2 of fantastic fishing. Established for the enjoyment of Ontario in 1944, the park had limited access until 1967 when highway 17 was completed. Lakes located in Lake Superior Park are primarily full of lake and brook trout although splake and northern pike are also available. A portion of the lakes are stocked with fish for put and take but many of the interior lakes are chalked full of natural, reproducing fish. These hard fighting trout display some of the most brilliant colours you will ever see on an inland trout.
Visiting "The Park" in the winter is an adventure all on its own. Preparation for your day is a key factor for any successful outing. Depending on the distance you plan to travel. Your gear list should shorten significantly on trips of 1km or more. 1 jigging rod and a spool of line or tip-up is sufficient for one angler on deep interior trips. In my pack you will also find some food, beverages, a chair and bait. The only other gear I will bring is a camera, small tackle box, safety gear, GPS and an extra shirt or two to change into when I get to the lake. Often I will bring 2 jigging rods on trips that are relatively close and even my flasher on occasion.
Fishing pressure in Lake Superior Provincial Park is minimal especially during the winter months. Choosing a lake or lakes to fish can also be a difficult task for any angler, local or not. Lakes directly off the side of highway 17 such as Mom and Dad offer some decent trout fishing only a few seconds off the highway. If you really want to experience what the park has to offer t a little more effort is going have to be put forth. 1-3 km snowshoe hikes are not uncommon. If you're not from the area there is not too much i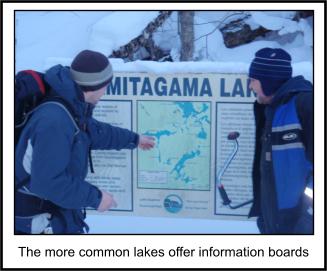 nformation available about what lakes to fish on the interior. Most are tight lipped about past success. If you are not going with someone who has some experience and suggestions on which lakes to fish, I would suggest buying a park map and picking a lake that is closer than 3km. Once you decide on a lake. You should always have a time set with someone expecting you home or at least a phone call for safety reasons. Northern Ontario winters are nasty and can catch you off guard on the best of days.
Fishing a remote trout lake is an experience all in its own. Having an interior lake to yourself after an hour snowshoe hike is not only satisfying but extremely exciting with the anticipation of a banner day icing trout. Since we have it right here in our province. Any ice angler that roams the hard water chasing trout owes it to themselves to fish one of Ontario`s most pristine areas. Remember when visiting Lake Superior Provincial Park there is no glass or metal containers allowed and no live bait at anytime. Check out www.LakeSuperiorPark.ca for more information on the park and its regulations.