---
---
The FUNdamentals of a Fishing Log
By Justin Hoffman
We have all had similar days on the water. Those when the fish refuse to bite, no matter what technique or bait we toss their way. Scratching our heads only brings greater discomfort, and we resign ourselves to believe that it must just be a "bad day" on the water.
Situations such as these can be reversed - made possible by the art of patterning the fish. But before you can pattern, you first must learn to record, and that can easily be achieved by creating a fishing log.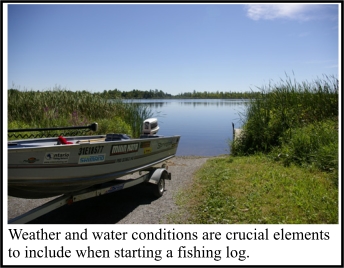 What Use is a Log?
A fishing log is a permanent record that outlines various criteria that were present during the catching of a fish. These could include water clarity, wind, water and air temperature, date and time, lure or bait, retrieve speed and structure. A log can include as much or as little detail as you choose, but the more information you track, the more useful it ultimately becomes.
The purpose of a fishing log is to give you a greater insight into why a fish was caught. This is achieved by predicting future success by extrapolating past history. For instance, if a multitude of present-day factors are similar in nature to previous outings, chances are that success can be achieved once again by duplicating these same actions. Or, in layman's terms - if you caught a bunch of bass on white spinnerbaits from a weedline when the wind was howling, the air temperature was 24 degrees F, and the water was murky and eight-feet deep, you should stick to this tactic when these similar conditions present themselves once more down the road. This is what they call patterning.
Another neat thing about fishing logs is the complete fishing picture that they represent. Compare how many largies you caught this year to previous ones. How many hours in total did you fish this season? Did your average size go up or down? Not only can a log hold informative data, it can also hold a wealth of fun.
And lastly, putting ink on paper is always clearer than trying to remember fishing memories that are long gone and faded. Permanent records stay with you for your lifetime.
Setting Up a Log
Logs can be kept and stored in two separate manners - notebook and computer. I keep a paper log in the boat at all times, scribbling information down as I go about my day. At the end of the week, I enter this information onto a computer spreadsheet, which allows me to keep running totals, as well as providing quick access to any pages or printouts I may need. At year-end I print the entire document, and archive the information in a three-ringed binder. With each passing year, I now have a handy reference tool to consult with, giving me valuable information before I head out on the water each outing.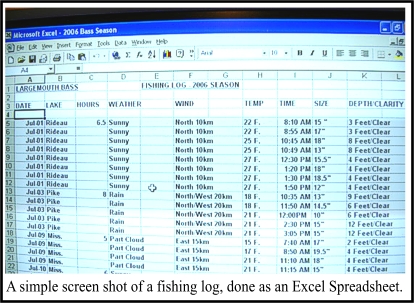 I prefer to keep a separate log for each species I target. With largemouth, smallmouth and walleye being my three most popular fish, these would be the only logs I take out with me. I store each fishing log, with pen, in a large Ziplock bag, which is then tucked into a storage compartment or my tackle bag. Another handy tip is to keep a small notepad always in the boat. This can be used on the off chance you forget your main log at home. (It comes in handy for me a few times each year!)
The following list represents the criteria I use for my own fishing logs. Use what you feel is applicable, but remember, the more information you record, the more useful the log will be.
1. Date
2. Body of Water
3. Total Hours Fished
4. Weather (indicate sun, full cloud, part cloud or rain)
5. Wind Direction and Strength
6. Temperature (air and water)
7. Time (indicate when fish was caught)
8. Size (length or weight measurement)
9. Depth and Clarity
10. Cover (structure area you are fishing - weedline, rocks, slop, pads, dock etc.)
11. Lure or Bait (include size and color)
12. Retrieve (fast, slow, finesse etc.)
Be as specific as you can when entering data. If any other interesting facts need recording, leave a space at the end of the entry to add it in. Some significant entries I have written include "swarms of bait fish on point", "spit up crawfish", and "strong current levels adjacent to bridge pilings."
A good buddy of mine has been keeping a fishing log for the last 18 years. It never grows old to hear him proclaim in the boat that he's 67 largemouth ahead of last years figure, or that he needs to fish 210 more hours to break his all time record. He has patterning down to a science, because with that many years worth of information, he knows where he should be fishing and with what at most any given time.
Keep in mind that fishing logs are not something that can be completed overnight, and will take at least a season or two before patterns can begin to be recognized. But the fun of filling them in can be felt on your first trip, and are sure to bring added excitement as the weeks and months go by.
There are many free fishing log templates, as well as programs, that can be downloaded or printed off of the Internet. A search for "Fishing Logs" will bring you to those.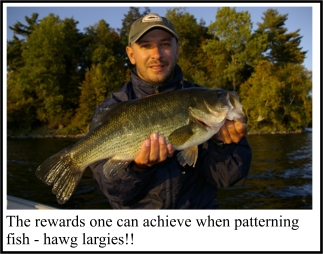 How To Pattern
Once you have spent a full season completing a fishing log, similarities will begin to shine through in multiple entries. For instance, when the wind is blowing from the north and it is raining while fishing "Lake X", the walleye always smacked perched-colored crankbaits off of "Point A." With this knowledge in hand, predictions can be made for subsequent trips when the parameters come together. This can help you duplicate your past successes, giving you another productive day on the water.
The night before a fishing trip I will pour over the forecast for the following day. This will give me a general idea of wind direction and strength, temperature and weather conditions. A quick check of log archives for similar time periods will often showcase similar occurrences. I then jot down or make a mental note of the baits, techniques, and areas that produced previously, in preparation for trying them once again the next day.
Patterning gives you an edge when it comes to fishing, and the best way to achieve a pattern is by virtue of a fishing log. Tournament anglers swear by patterning, and keeping logs is mandatory for most, if not all of these guys.
As you can see, a fishing log can provide valuable insight into your fishing habits, your goals and achievements, as well as being a great predictor for future success. Give fishing logs a whirl this season - there's no better way to take your angling to the next level.