Tough Bite? Try a Little Ice Fishing Finesse
By Tim Allard
There were already a few anglers jigging as I pulled my hut up to the community crappie hole. "How's the fishing?" I asked. "Slow. We haven't got any yet," answered one angler. I walked several yards away from the group, drilled a hole and settled into my hut. Over the next few hours I caught several decent crappies despite the slow bite. The trick was downsizing, finesse fishing, and trying several spots. Here are some details on the day's events that will apply to most ice fishing conditions when crappies aren't aggressively feeding.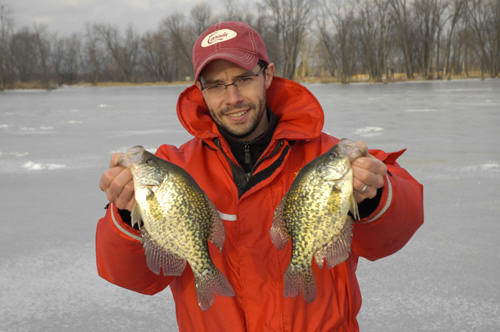 Downsize Baits & Use Ultra-Light Rods or Spring Bobbers
Knowing the bite was tough I opted to use two rods. One had a spring bobber that was rigged with a Lindy Genz Bug on 2-pound test line. I also grabbed an HT Polar Lite, micro-action rod that was teamed with a Marmooska jig on 1-pound test line. I tipped each lure with a piece of a Berkley Honey Worm to add some scent to the offering.
Throughout the day both these set ups took fish. The spring bobber is defiantly the more sensitive of the two, but the ultra-fast tip of the micro-action rod acts like a strike indicator when teamed with a heavier jig. The rod tip is always under a slight load from the jig. By intently watching the tip I can see when a crappie aggressively hits the bait, resulting in a downward tick. Conversely when a fish lightly takes the bait as it swims upwards it causes the rod tip to straighten slightly.
For experimentation sake, I rigged up a light-action rod with similar sized baits. Although I was able to attract fish to the baits based on the reading from my Vexilar, I was unable to feel the subtle hits through the heavier rod. In most cases, I was able to switch back to the micro rod and hook the fish that were marked on the flasher. This demonstrates that when fish aren't aggressively biting, you need to go with finesse tackle and rods.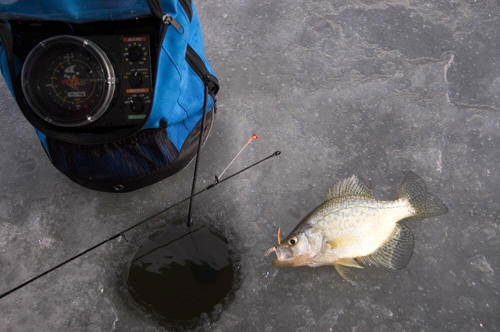 Subtle Presentations are Critical
I found several jigging sequences took fish during the tough bite. When I marked fish on my flasher, I would slowly swim the bait just above them. Lightly hopping or quivering it in place, I first tried to have a fish rise to the bait. It's been my experience that even when fish are extremely inactive, they will sometimes rise to a micro jig out of curiosity. I've found that if I can get a fish to rise to a bait, I can often get them to hit with the right jigging sequence.
My favourite tactics for trying to trigger hits are quivering baits in place, lightly hopping or deadsticking them. The first two jigging moves are good to keep crappie interested, but deadsticking baits for several seconds will take a lot of fish. When I'm deadsticking baits I don't focus on my flasher, but pay close attention to the spring bobber for the slightest movement. Any downward tick or upward movement is a hit and a sign to set the hook.
Move Around and Change Depths
Even in the toughest conditions, there are usually some fish willing to bite. To bring more of these biters through your ice hole it pays to move around. The objective of moving is to try and locate fish that can be tempted into biting among the school of lock-jawed ones.
Continuing on the same example of my community hole outing, I moved around every half hour or so trying different spots. Whenever possible I stayed on the periphery of the crowd. This tactic can be important in highly pressured areas when targeting crappie. At community holes you'll sometimes find fish on less obvious, secondary structures or suspending over deep water to avoid the noise and fishing pressure of so many anglers. Every time I drilled a new hole, I fished the entire water column, searching for both suspended and bottom-dwelling fish.
My day outing is one example that paying attention to details on a tough bite can make the difference between an alright day on the ice versus one you wish that you would have stayed in bed. If you don't already own some rods with spring bobbers, pick some up along with some micro jigs and some 1- to 2-pound-test line. Use these tools to subtly fish baits at various depths and you'll tempt fish, even when the bite is a tough one.
---