---
---
Ten Tips For Flipping and Pitching
By Justin Hoffman
Preface - The snow has fallen and the ice is thick, but some anglers are only interested in the fair-weather excursions. So here's a piece for the bass lovers - it's only five months away, so lets begin dreaming about open water and big green fish!
If there are two techniques that have accounted for more and bigger largemouth in my boat over the years, they have to be flipping and pitching. Not only are these short-string tactics both finesse and heavy-handed, they are also a ton of fun to perfect and execute.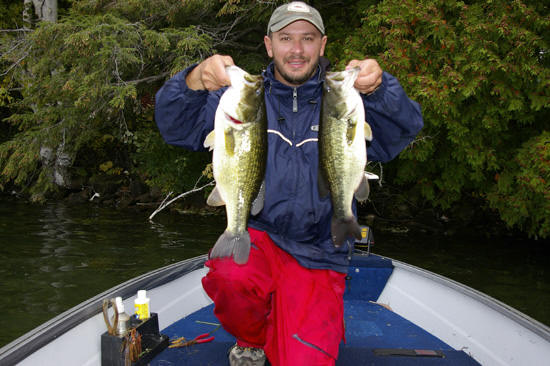 Experiment with different baits when flippin' and pitchin'.
Follow these ten tips to take your flipping and pitching game to the next level - and learn first-hand what all the fuss is about.
#1. Splashless Entry
Whether you are fishing a shady dock or a ring of pads, your entry should be as quiet and soft as possible. A mighty splash at the end of a pitch can cause largies to scatter and run, hightailing it away from the unexpected commotion. Keep your projectile low to the waters surface, with barely a ripple when it finally makes contact.
#2. Watch Your Shadow
When flipping or pitching structure areas, always be cautious of your shadow. Try to keep the sun in front of you, and take careful note of its position when easing up to a new spot. A large shadow, flashing across a sunken tree or weed edge can alert fish to danger, negating the necessary stealth you should always project.
#3. Use the Wind
The wind should be your friend when flipping and pitching, never your foe. If working large expanses of slop, pads or weed clumps, drift with the wind (and the aid of a trolling motor) to easily cover the area. If fishing solitary targets, such as a dock or stump, go against the wind. This will allow you to thoroughly probe the structure, and will keep you from blowing into it, or right on by.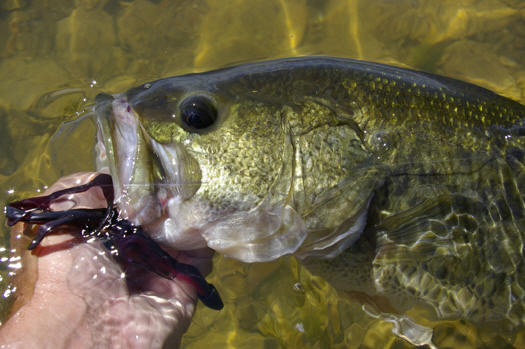 #4. Mix It Up
Flipping and pitching shouldn't be limited to only flipping jigs. Quite the contrary. Lizards, tubes, worms and creature baits all have their time and place, and can work wonders when fish grow tired of the "norm." Experimentation is the key to consistently catching fish, and sometimes a curveball is needed to stir things up.
#5. Rigging Up Right
Flipping and pitching require specialized equipment in order to work right. A 7'6" flipping rod is a great starting point for those that want to flip, while a 6'10" or seven-foot rod is ideal for the pitching crowd. Baitcasting equipment is mandatory for these situations, and a reel with a flipping switch certainly makes life easier.
#6. Work Every Nook and Cranny
Largemouth are master concealers. They can hunker down beside a log, or up against a piling, and may require a bait to bounce off their nose in order to take a strike. It is imperative to work all angles of the structure you fish. Don't be content with one or two flips at a dock, as the eighth or ninth toss may be the one that finds the mark. Don't move until you are certain no one is home.
#7. Don't Get Caught up in the Weather
Many folk will only flip shaded cover when the sun is shining brightly. Big mistake. Bass can be lurking in and around structure throughout any weather pattern, whether it is for the food, comfort or security it provides. Don't overlook that dock, tree or undercut next time the clouds roll in or the rain begins to fall - you may just be turning your back on a hidden lunker.
#8. Color Can be Everything
Pay attention to color when flipping or pitching your favourite baits. Natural hues work well in clear water, especially when the sun is shining. Cloudy or overcast skies may require brighter pigments to get the attention of fish. If the water is murky, bright hues are mandatory, as are rattles. This will all help fish hone in on your bait.
#9. Use Your Underwater Eyes
If you are not wearing polarized glasses while out flipping and pitching, you most definitely are fishing blindly. Fishing glasses allow you to spot targets, structure and fish - something that is much more difficult with the naked eye. They are an inexpensive investment that can lead to riches, and in my book, are more than a necessity.
#10. Keep Fit
Flipping and pitching can be tough on an angler's body, especially the wrist, forearm and elbow. Although most see the importance of mental strength in fishing, they overlook the physical strength it often takes. Simple exercises that strengthen the arms can improve your game of flipping and pitching. It will also prevent injury that can occur, namely, the dreaded "fishing elbow." Remember, an ounce of preventionů.
Flipping and pitching are two techniques that can produce terrific results. Practice and determination will greatly enhance your ability, as will following these simple steps I've outlined. There can be a learning curve, but once you reach it, the rewards can be endless.