In this issue:
"The Basic Lures for Lunker Largemouth"
NEW ONTARIO FISHING CHAT
CLICK HERE!
Long Point Airways
Last minute fly-in trips. We have some openings available at some of our fly-in lakes. These trips have been discounted for the rest of the summer. Go on the fly-in trip you been dreaming of at extremely affordable rates. Click here to find out more!
Auld Reekie Lodge
- Whether you pamper yourself with our full meal plan and the ultimate in comfort in one of our 6 luxury suites, or stay in a fully equipped 4 star cottage where you can cook your own meals, at Auld Reekie Lodge we feel we've got everything you're looking for and more. Auld Reekie Lodge, as featured on the Canadian Sportsfishing Show, is a true escape in the beauty of Northern Ontario's wilderness.
Camp Raymond
- Camp Raymond is situated on the picturesque northwest bay of Lake Nipissing. A fully equipped housekeeping camp geared to both families and fishermen. We offer many amenities to make your vacation a memorable one
Trails End Lodge
- A full service facility, situated on Pipestone/Clearwater chain of lakes, offers incredible fishing experiences with Muskie, Lake Trout, Walleye, Bass and Northern on 76 miles of pristine waters. Enjoy a shorelunch prepared by experienced guides and explore the white pine forest. Join the fall hunters for white tailed deer and grouse. The new Conference Centre allows for groups of up to 80 people for reunion or corporate meetings.
Ontario Bass Fishing
"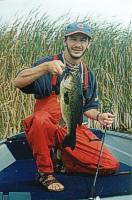 The Basic Lures for Lunker Largemouth" By Justin Hoffman

For those anglers that have caught a severe case of the "bassin' bug," deciding on what lures and baits to choose can be a complicated and difficult decision. Breaking down the collection of baits into five significant and productive types will help all those new to bass fishing get a better handle on what to throw a largemouth's way. Stock your tackle box up with each of the following lures and watch how simplified the bassin' game can be and how your success rate will seemingly skyrocket.
Plastic Worm
The plastic worm is one of the oldest and most productive baits to ever hit the market. Quite simply, this bait catches bass. Although they can be found in a variety of lengths, colours and body types, my suggestion is to begin with an assortment of baits in the six to eight-inch length. Of these, choose a few basic colours, including black, purple and crawfish, in both a curly tail and paddle tail style. Hooks can be purchased in a variety of sizes, although the range of 4/0 to 6/0 will generally cover all applications. Finally, an assortment of worm weights should be chosen to complement the worm and hook.
Plastic worms are an outstanding bait because they can be fished in so many different ways. Carolina rigged, weightless and wacky are just some of the ways that they can be used, and learning each of these techniques will enable you to cover all types of water conditions that you are faced with. If you are fishing water that is predominantly weedy, a worm rigged "Texas-style" (weedless), will be your best bet.
Spinnerbait
A spinnerbait is a great addition to any bass anglers bag of tricks due to its ease of use and the aggressive strikes it produces. Spinnerbaits come in a variety of sizes and shapes, with three main blade designs. Willow Leaf, Colorado and Indiana style blades should all be represented in your collection, in a variety of colours and weights. 3/8 oz. and ½ oz. sizes are the two most popular weights on the market, with white, black, chartreuse and silver/blue being great starting colours.
Spinnerbaits can be fished fast or slow, buzzed on the surface or fluttered into weed pockets. The versatility and relative weedlessness is what makes this a great bait for lunker bass. A key point to remember is to always attach a stinger hook to your bait when fishing in relatively weed-free water. The stinger hook will help in catching fish that strike short on the bait or those that the main hook did not penetrate.
Topwater
Topwater baits are an exhilarating and heart-stopping tactic for active largemouth bass. The sheer thrill of seeing an explosive strike on the surface of the water is one that no other bait can reproduce. There are tons of topwater baits on the market that are designed to catch bass, yet the decision can be simplified by selecting a few of the top choices. Start with a collection of buzzbaits, poppers and "walk-the-dog" models. These three types will cover most conditions you will face and will help in learning the basics of throwing topwaters.