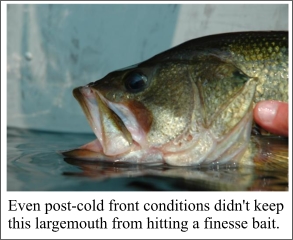 Cold Fronts & Deep Weedlines for Largemouth
By Tim Allard
Cold fronts will challenge your angling skills. This is mainly because fronts send most fish into a negative mood, and largemouth bass are no exception. To successfully fool largies, you need to learn to recognize what stage of a front you're fishing and match your presentation accordingly. In most cases, fishing deep water is the best strategy once a front has passed.
What's a Cold Front
A cold front can be described as the edge of a cold air mass that moves in on a warmer air mass. The intensity of fronts will vary. Fronts that move in quickly on warmer air masses cause dramatic changes in weather. Rain, high winds and overcast skies occur at the initial stages of most cold fronts. In extreme cases, lighting and hail can be present. After the edge of cold air passes typical weather conditions are: bright, blue skies, few clouds, low humidity, and a drop in air temperature. These post-front conditions might be pleasant for the angler, but they make for tough fishing.
Go Deep
It's no secret that edges attract largemouth and deep weedlines often hold big bass. Deep weedlines are my largemouth sanctuary when a cold front moves in. The reason is two fold. One, cold fronts cause bass relating to shallow water to move to deeper water. This increases the bass concentrated along deep weedlines as well as other deep water structures, like timber. Second, bass that were already relating to deep weedlines are rarely as affected by cold fronts as shallow water bass, making deep-holding fish easier to catch. Add these two facts together and it's tough to argue against spending cold-front fishing time near deep weedlines.
Key Spots on Deep Weedlines
Largemouth concentrate on certain areas on deep weedlines. Spots where cover and structure meet regularly hold bass. Fish are attracted to the pockets created along the edge where weed growth is interrupted by sunken wood or rocks. Inside and outside turns are two other productive fish-holding spots on weedlines. Points extending into deeper water featuring a weedline are often good bass areas. Cuts are always worth fishing as they provide both cover but also serve as a route from shallow to deep water. These form a long pocket when they intersect a weedline.
Passing and Post-Front Weather
The early stages of a front bring wind and waves. If conditions are safe, fishing can be hot during the pre-front conditions and the beginning of the front. Bass seem to sense the impending changes and feed heavily during the onset of a cold front. Once the air masses have collided and the weather has stabilized, bass can have a serious case of lock-jaw in these blue sky conditions.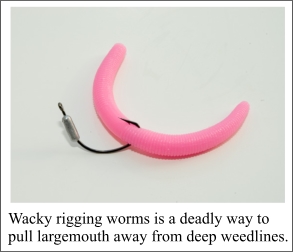 Cool Baits
In most cases finesse fishing is the best approach. This starts by downsizing baits and going for natural presentations. Options include wacky rigging Senko-style plastics or finesse worms on either shaky-jig heads or on drop shot rigs. Work these baits slowly and occasionally dead stick them on the bottom. This do-nothing technique works particularly well in cold water conditions.
With wacky-rigged baits, don't be afraid to use weighted hooks or to add a split shot a foot above the bait to increase its sink rate. This might seem contrary to finesse fishing, but the weight gets the bait in front of big, bottom-dwelling bass faster, bypassing smaller ones often stationed higher in the water column.
Stacking the Odds in Your Favour
To increase your chances of getting largemouth to bite under tough conditions, pay attention to details. Use scent products to make your offering more appealing and ensure your presentation is as natural looking as possible. Keep hooks extra sharp. Finally, pay attention and focus; it's unlikely you're going to get a lot of hits, so put yourself in the frame of mind to be ready to set the hook when a fish bites.
Cold fronts are nasty to fish when they're blowing through and post-front fishing can be extremely challenging. If chasing largemouth, head for deep weedlines and use finesse baits. You'll likely be a lot more productive than if you would have fished shallow bays or looked under docks.
---