In this issue:
ALL NEW ONTARIO BOATS FOR SALE CLASSIFIEDS
CLICK HERE!
TOTAL TACKLEBOX
We are on our way to becoming the worlds largest fishing tackle search engine!
Samoset Lodge
- Fishing at Samoset Lodge is a treat. The angler can take advantage of miles of reed beds, countless back bays dotted with lily pads, and rich, rocky shoals where you can find the species you are looking for - Muskie, Bass, Great Northern Pike, Walleye (Pickerel), as well as several lesser demand species. Lake Nipissing is one of the most beautiful lakes in Ontario. Ninety miles in length and forty-five miles wide, this healthy, vital lake is a maze of rocks and islands to discover.
Cedar Shores Resort - Located North of Thunder Bay, close to East Lake Nipigon. Excellent walleye/pickerel, northern pike, trout fishing, ice fishing, partridge , small game hunting, moose, moose tags (bow and rifle), bear, cabins, motel, camping, reasonable rates, weekend packages bait/ice available, boat/motor rentals, licenses , sauna, swimming.
Lookout Point Camp - Fish Gowganda Lake for walleye, smallmouth bass, pike, perch, and whitefish, or try one of our back lakes. Gowganda and its surrounding area has much to offer, some of which are hunting moose, ducks, and smallgame, riding on one of our ATV trails, exploring old mine sites, canoeing along Gowganda Lake's 35 miles of shoreline. We have 4 waterfront cabins, ranging from a 2 bedroom which sleeps 4, to a 6 bedroom which sleeps 12. All cabin's are FULLY equipped.
"Crank Up That Next Smallie"
By Justin Hoffman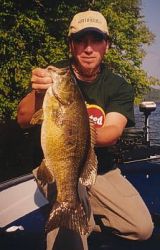 Crankbaits have a universal appeal when it comes to luring in smallmouth bass. Whether they represent a baitfish or crawdad to the opportunistic bass, the end result is always the same - another bass in the boat. Although crankbaits come in hundreds of styles and shapes, a select few can get the job done right when applied correctly. Utilize these tips and tricks the next time you hit the water, and have fun cranking in bass after bass.
Minnow Baits/Twitch Baits
Twitch baits are long, slender "minnow-shaped" plugs that can range in length between three and six-inches. (Five to six-inches is the preferred size for bronzeback fishing.) Most twitch baits are designed with a small lip, causing baits to run anywhere from just below the surface to six-feet down. You can also find suspending models that will hold at a certain depth, and "freeze" when the angler stops cranking. These can be great when fish are in a neutral or negative mood.
Twitchbaits are a handy addition to the tackle box as they can be used in a multitude of applications. The one key that seems to be the triggering device is the quick "snaps" and "tugs" of the rod tip that imparts a definite stop-and-go action. There's something about this fast twitch method that drives smallmouth wild! You really can't work this bait too fast for the speedy smallmouth, and I've found that the more erratic you work the bait, the better the results will be. Experiment with long tugs, short tugs and varying lengths of pauses until you find out what the smallies are looking for.
Twitchbaits can be fished almost anywhere you can find smallmouth bass, although they really shine in water that is less than twenty-feet deep. In fact, many of my better days on the water are when I concentrate on ten to twenty-foot depths and twitch my way through the area. The clearer the water the better the action, as this bait is essentially a sight lure for smallies to hone in on, although the built-in rattles certainly can call them in for a closer look. Try to "match the hatch" when choosing colours - predominant baitfish colours will usually do the trick.
Pay attention to shallow feeding shelves, underwater humps and rock shoals, and be prepared to twitch your way to more and bigger bass.
"Rattle-Trap" Style Baits
This bait is quite unique looking, with no built-in lip to give it a set running depth. The body is very flat, and both ends meet in a distinct point. The hard plastic body cavity is filled with BB shot, producing an extremely loud vibration when pulled through the water. (This is the key to its fish catching ability.)
One of the first baits on the market was the Rattle Spot, with the Rattle Trap following shortly thereafter. Most manufacturers have a bait in their lineup that is a twin of the original, and all work superb when put in the hands of an angler.
Since these baits have no lip for depth, they can be fished as deep or as shallow as needed. They can be "counted down" to the depth you wish to target, as the rate of decent is roughly one-foot per second. Once at your predetermined depth, it is time for the retrieve. Pulling one of these baits through the water is simple. Crank it in steadily at a medium to fast rate, pausing for a few "jerks" along the way for added sound and attraction. When a fish strikes, you will most certainly know about it!! Smallmouth clobber rattle-traps in a kamikaze style, hard and fast, almost ripping the rod out of your hand if you're not ready for it. Hit them with a mighty hookset, and sit back to enjoy the tussle they will give you.