---
---
---
I am very pleased to announce that Kyla Tooley from Espanola is the winner of our Extreme Angler - Muskie Print!!




Congrats again, and a very BIG thank you to Karl at Extreme Angler TV
www.extremeanglertv.com for supplying such a generous prize!!
---
---
Editors & Publishers
T.J. & Monique Quesnel
The Ontario Fishing Network E-Magazine is published 12 times a year on or near the beginning of every month. Our magazine is geared to any angler who enjoys fishing of any type in the wonderfully diverse province of Ontario.
Editorial Submissions: We welcome query letters, but assume no responsibility for unsolicited materials.
Subscriptions: Subscriptions are FREE of charge and delivered via email. You can subscribe HERE:
Privacy Policy: Unlike other publications We NEVER make our subscribers list (your email address) available to any other companies.
Advertising: If you are interested in advertising please email us.
Circulation - 7,500 email subscribers
© 2007 Due North Marketing / Ontario Fishing Network / T.J. Quesnel. All rights reserved. Reproduction of any material without prior written permission strictly prohibited.
Opening Day Muskie: You Can Troll, Too!
By J.P. Bushey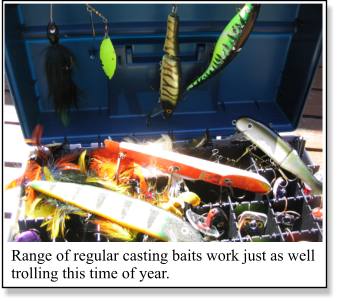 Trolling isn't just a fall technique for muskie. During the entire season, no matter what month it is, some spots are laid out for casting, some for trolling and some for both. Early in the summer, all species have a lot of options. Food production is ramping up to seasonal highs. Surface temps are leveling out, and weeds are gaining their green, healthy momentum. Spots aren't normally overrun with grass, and good cabbage or coontail will be popping up in the best spots. For the most part, those big, sloppy bands and walls of mixed weed haven't formed yet. If you cast, targets might be less common than they are by mid-summer, but they're easier to identify and fish. If you troll, getting your boat and baits through is easier than later in the summer, too.

Trolling in late June and the first half of July is a viable option on any kind of water. The theory is that muskies are beginning to leave spawning areas and use 'home range' type areas for the balance of the summer. Fish that are migrating in any way-leaving a spawning site for a home range feature, or wandering between separate home range features-are catchable. I have no clue when or why fish travel day to day, but I'm 100% certain that they do. A nice part of the deal is that your casting baits can be used for trolling at this time of year.

There isn't much point in trying to lay out specifics for all of the scenarios that you'll encounter. Lakes and rivers are different, fish populations are different, and no two Opening Days seem to be the same. But trolling is a highly adaptable way of fishing, and you can have success with it on a range of water bodies, areas and set-ups.

Fishing right in shallow water and setting baits to run shallow over deeper water are two good, basic approaches. Over deeper water, the surface down to about fifteen or twenty feet is normally the focal point. On shallower spots, muskies can be caught in as little as three or four feet of water. In bays or larger coves where weeds are starting over soft bottom, you can keep baits close to the boat and really pick through the newer patches. Spinnerbaits are consistently one of the most effective year in and year out. They're great for weed contact and have good presence in open water between weeds with lots of vibration. It's amazing how much cleaner single hooks stay versus trebles. Baits tied with tandem 5/0 to 9/0 singles are great here. Nearly all of my spinnerbaits, regardless of their application, have single hooks. Bucktail, marabou or rubber skirts all work.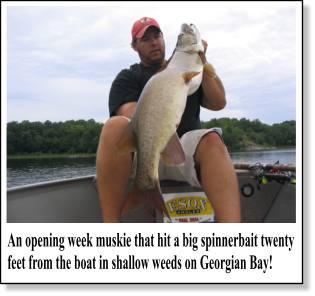 Surface lures and jerkbaits are also very effective in shallow water. Neither are exactly common choices for trolling, but they can be highly effective. 'Pump trolling' Suicks or Bobbie Baits just outside the prop wash or further away from the boat is hard work, but the fish love it some days. You're basically working the lure with pulls and sweeps from a standing position near the back of the boat. With the rod tip low, the retrieve is just like you would use casting, the bait just stays in the water the entire time. The same rigging you'd use for casting jerkbaits works well for trolling them. Eater-sized pike and walleyes jump all over this one, too. Weighted models work best, and bending the tail fin down helps the lure get down a few extra feet and stay there when you troll it. It can add wobble to these lures, too. Baits like Sledges can be straight-trolled close to the prop wash by pinning them in position with a half pound to one pound lead weight above the leader. If you own a Sledge, check its action over the side of the boat at 3 to 5 miles per hour next time out, you'll like it.

Surface baits are something I'm just getting into for trolling, but guys have been having success with them for years. You have the option of sending one away from the boat on a short lead behind a small trolling board or working them much closer. Loud, straight-running baits that don't tangle and hook well are the most common. Some fishermen will even bulge big spinnerbaits tight to the boat. I can't wait to see a thirty pounder take a surface lure close-range like that! Of course, surface lures stay above trouble, also. Most weeds haven't quite reached the surface at this time most years.

Like we've all had drilled into our heads, any kind of oddity along a trolling run is worth checking, maybe even returning and casting to. Rock piles, deep/open spots in between the weeds and the shore, between weed patches or any other feature can attract a fish. Some days, muskies in shallow water will be stuck right on cover or structure, other times they're out wandering around. If some of your favorite early-season areas are large and you can safely get your boat through them, trolling is a great way to check them fast. Even if you can't get a strike trolling, you'll get a good snapshot of weed growth and forage in locations that you can explore slower, later on. There are bays on the French River and Lake Nipissing that take hours to troll properly. Casting eats a lot more time.

Shallow, shallow, shallow, cast, cast, cast certainly works early on. But I can tell you that there are nice fish traversing open water at the same time. These travel zones might simply be a few cast lengths off a shallow run in the same bays or channels, or they can be way out, over much deeper, more 'sterile' looking water.

The shortest distance between any two points on a map is a straight line. If an appealing spot to a muskie is across a 1000 yard span of open water and it wants to get there, do you think it will swim all the way around the shoreline? That shoreline might take her several kilometers out of the way. She's going to cross the open water. They absolutely will follow drop-offs and shoreline/structure-related routes when it suits, but on big water especially, open crossings are often the more efficient option of the two. And in a lot of cases, some of the prime eating can be done out there. I'm a firm believer that on trophy-caliber water, there exists small populations of big fish that rarely, if ever, leave open water. They're not the reproductive machines they once were and simply get by eating and hunting. (Now that's the life!) I'm anything but a biologist, but my belief has been that the really huge ones do less and less of the spawning thing the older they get. This could easily be proven false.

Baits like Jakes, Believers, Grandmas and Outkasts are great in more open water. You still don't need to run them real deep, and smaller baits behind planer boards make sense here, too. They'll hit a range of lures, as long as they come through at a depth and speed where muskies can find them. The best bait is still the one in the right zone. I think it's like fishing 'out there' at any other time of the year: you're better off a little higher than a little lower. Of course, banging any rocks at the right depths anywhere they pop up along open runs can pay, too. Big shoals or shallow features out in 'no mans land' hold fish early, too. Open water areas are another situation where I'm going to try trolling surface baits, particularly at and after dark. Big, pounding spinnerbaits have the right combination of attraction and hooking power.

I'm just like anyone else. After a long off-season, I'm dying to get out and start chucking lures, especially any of the new ones I've made, modified or bought over the winter. Shallow water is almost always where I like to check first, if for no other reason than to see weed growth, temps and what food's around. It isn't uncommon to see and catch muskies in shallower water and then over or around the open areas in the same day. They'll use both types of areas. It blows my mind watching boats roar out of one area, only to come off plane and start all over again a short distance away. I troll between 'em. I'm positive muskies don't jump up on shore and jog from area to area. If the next best area is down the shoreline further, I'll zig zag along that path. If it's across a piece of open water, I'll swing the boat that way and fish my way across it. There's normally at least five rod holders on my boat all year, set at differing angles and positions. Some are low to the water and set back on angles for short-line trolling. Some are off the gunnels at 90 degrees for long rods and a wide spread in open water. At least one is set high, for pulling small trolling boards with lures like spinnerbaits, Shallow Invaders or Super Shad Raps.

You can troll in a lot of different ways and in a lot of different spots early on. Many years, it's been a hot producer. Hearing that first clicker squawk of the summer gets me as charged up as feeling any casting strike. At the very least, even if you're 'not a troller,' just try keeping lures wet traveling between spots a few times this Opener. You might be surprised what happens. If you've finished casting an area and it's large enough to troll, try a pass or two before blasting off.
---