In this issue:
Twitching Your Way to a Bass Bonanza
NEW ONTARIO FISHING CHAT
CLICK HERE!
Charlton Lake Camp

-

Charlton Lake Camp is a housekeeping cottage resort set among towering pines in Northern Ontario's La Cloche Mountains. The camp offers fishing (bass, walleye, pike and lake trout), swimming, boating and hunting. Eco-tourists will love the easy access to Killarney Provincial Park for canoeing, kayaking and hiking. Artists and photographers will revel in the same natural beauty made famous by the Group of Seven.
Opimika Wilderness Camp & Cottages
- Opimika Wilderness Camp & Cottages is a remote wilderness lodge, open year round. Fish, hunt, ATV & snowmobile at Opimika. We offer fully equipped cottages with kitchen and bathroom, camps and outpost cottage. You will have access to 30 lakes within 10kms of the lodge. Fish for Walleye, Northern Pike, Bass & Trout. Hunt for moose, deer & bear.
Spruce Shilling Camp
- It's that perfect day, light breeze and the fish are biting. You must be in Shining Tree. Yes, our lakes boast quite a variety; Walleye, Trout and Northern Pike just to name a few. Our Fishing Packages help you fulfill those anglers' dreams. Maybe that big one is waiting for you in Shining Tree, at Spruce Shilling Camp.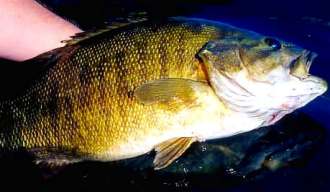 "Twitching Your Way to a Bass Bonanza"
By Justin Hoffman

Cast. Twitch, twitch, twitch….pause. Fish on! Throwing twitchbaits to bass can lead to some exciting days on the water - and some big bass to boot. Twitchbaits mimic the natural look and action of a baitfish to a T, and therein lies the reason for their incredible fish-catching abilities. Try your hand at the following "twitch tactics," and reap the rewards that the bass gods will shine down on you.
What Is a Twitchbait?
A twitchbait can be defined as a long, thin minnow-shaped crankbait that possesses a short stubby lip. The majority of twitchbaits run at shallow depths (usually between 1 to5-feet below the surface) and will come in either a "floater" version or a "suspending" design. Suspending models will "freeze" at the depth you are working, allowing the angler to maintain the lure at a productive depth or strike zone. Floaters will do as the name suggests - float to the surface. Continuous twitches will enable the lure to run at a uniform depth, with longer pauses allowing the lure to float higher in the water coloumn.
Suspending models work best if you are attempting to target a certain depth and prefer the lure to run at that constant level. They also excel if the fish are in a negative mood and prefer an easy meal. Floaters, on the other hand, are ideal if the target area contains a lot of weed cover as you can work you lure over the top more productively. They are also ideal if the bass are in an active mood due to the added movement in the water coloumn.
Twitchbaits mimic the natural prey of bass perfectly. Whether they represent a dying baitfish struggling to survive or a frightened minnow separated from its school is up for debate, but whatever the case, they seem to work wonders on the bass population.
Which to Choose?
When selecting twitchbaits, a number of criteria should be followed for maximum results. Choose a crank between 4 and 6-inches long that comes adorned with high quality hooks. (Excallibur, Gamagatsu and Mustad are three makes of trebles that rate high for sharpness and hooking capabilities.) Choosing a variety of baits in both floating and suspending models will enable you to cover a wide range of depths and structure. A few of my personal favourites are Excallibur, Rebel and Bagley baits. Try to choose lures both with, and without, rattles. For active fish, rattles can be a key triggering mechanism. However, on the days where the fish are downright negative, a "silent" crank can be the best bait to choose.
Colour is quite a straightforward decision. "Match the hatch" comes into play with twitchbaits, with natural colours being your best bets. If the favoured prey of largemouth on your home lake is shad, then go with a shad-coloured bait. The same can be said if smallmouth feed heavily on crayfish - a crayfish pattern will be the best to throw. Where To Use
Twitchbaits can be used in a variety of locations on a lake, with the deciding factor being whether you are chasing bucketmouths or bronzebacks. For largemouth, top areas to target are weed flats and lines, docks and timber and shoreline structure. Humps can also be worthwhile if weeds are present.