---
---
Baitfish and Fall Trolling For Walleye and Muskie
By Tim Allard
"You marking any bait?" is a popular question many anglers ask when talking about trolling for walleye or muskie. Finding baitfish schools being attacked by predators is an important angling skill for autumn trolling. I spoke with two well-known guides, a walleye expert and a muskie specialist, about fishing large pods of baitfish as a piece of fish-holding structure. What follows are some of their observations on the importance of baitfish and tips on autumn trolling strategies.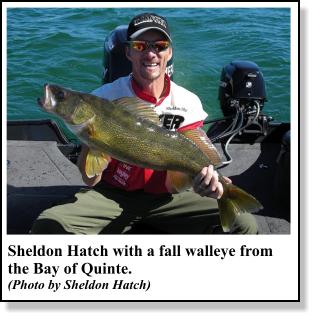 The Walleye-Baitfish Autumn Migration
"In the Great Lakes a large population of nomadic walleye live their whole life following and feeding on schools of bait," said Sheldon Hatch. Hatch is a well-versed walleye angler who fishes Cabela's Masters Walleye Circuit, and guides throughout Eastern Ontario and on the Bay of Quinte. Hatch explains baitfish, and following walleye, migrate in autumn from the main lake to bays and other winter-holding areas on the Great Lakes. Speaking on Quinte, Hatch says walleye start aggressively feeding on baitfish when the surface temperature reaches 50 degrees Fahrenheit.
The Great Lakes walleye-baitfish relationship is an example of how baitfish can be seen as a type of holding structure for walleye. Walleye will follow baitfish schools, gorging on them to build up energy reserves for the winter. Although bait is not structure in the truest since of the word like that of a reef, conceptualizing schools of baitfish as a piece of structure will improve your catch rates this autumn.
Sonar and GPS to Find Baitfish
Hatch relies on his Lowrance's LCX 112 to locate baitfish and determine if the area holds walleye. While surveying the water, he marks baitfish with waypoints. Once he locates plenty of walleye and gathers sufficient data on their location in the water column, he'll set up his trolling strategy accordingly.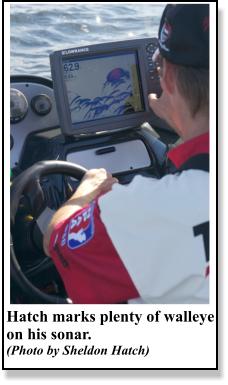 Walleye-Baitfish Trolling Tactics
"In the fall on the Great Lakes I exclusively run large crank-baits like Rapala's Deep Tail Dancer and Reef Runner's 800 Series as the fish are looking for a big meal…. I always run my cranks above the arcs and schools of bait showing up on the sonar screen," he said.
Hatch finds working the outside edge of a school of bait catches more walleye. The lure is isolated and not hidden in the baitfish, making it an easy target.
"Large walleye hunt in small packs. They wait for individual baitfish to fall out of line from a school and then pounce on the prey," he said. Trolling his crankbaits on the periphery puts them in an ambush zone.
He also uses planer boards to present baits with out spooking walleye. "The in-line board gets the bait out and away from the boat, and into the face of actively feeding walleye," he said.
For information on Hatch's guiding service, visit www.ezelo.com or contact him at 613-851-5151.
Baitfish, Mid-Level Predators and Muskies
Being a different predator, muskie don't relate to baitfish schools exactly like walleye. According to Marc Thorpe, walleye and other mid-range predators likely attract muskie more so than small-sized baitfish. Thorpe is a successful muskie angler who's been guiding the Ottawa and St. Lawrence rivers for over 15 years. When trolling, Thorpe looks for muskies in the vicinity of other, smaller predators feeing on baitfish schools.
Marking Muskies on Sonar
Baitfish are one of many details Thorpe constantly observes on his sonar, marking plenty of shiners and perch schools in autumn. "I'll pay attention to schools of shiners in relation to perch, walleye, bass and catfish….Large, collected schools generally are a sign of peace and tranquility," he said.
Thorpe gets interested in an area when his electronics display broken up bait. Usually this means predators like walleye or channel catfish are feeding on the bait, which in turn attracts muskies looking to ambush the baitfish hunters.
Over time he's learned to differentiate muskies from other large fish, like sturgeon, on his sonar. He notes a muskie's airbladder gives off a particular shape on his Lowrance 337C's display. He describes it as a "large turtleback", hook shape. Thorpe's ability to mark muskies gives him the confidence to hunt these apex predators.
Autumn Trolling Tactics
"When I identifying muskies, I go after them," he said, running his baits slightly above marked fish. Uninterested muskie often move out of the way of the boat, but when aggressive they often bite on the first pass he says. Thorpe usually tries a few trolling runs around the bait. His pattern is often one run outside the bait on the shallow-water side. Next, he'll pass thought the pod of baitfish. Lastly, he'll troll on the deep-water, outside edge of the pod.
When it comes to trolling baits, Thorpe notes he often uses Muskie Mania 13-inch Jakes and Ernies, Legend Perch Baits, and Hi-Fin Trophy Divers. "I mix it up between small baits and big baits. Fish often go on a pattern where they bite a certain size of bait for a few days. Then they suddenly won't touch them anymore and you need to change to something different."
For information on Marc Thorpe Guiding Service visit: www.marcthorpeguiding.com or contact him at 450-433-4784.
The similarities in angling tactics between Hatch and Thorpe demonstrates finding baitfish and feeding predators are critical to autumn angling success. Yet, finding bait isn't enough. You must learn to effectively troll the large schools of baitfish and properly position baits in the strike zone. For many successful trolling anglers, this starts with seeing baitfish schools as a type of structure.