In this issue:
Toss the Versatile 'Flipping Jig' for More and Bigger Bass
NEW ONTARIO FISHING CHAT
CLICK HERE!
Country Cabins & Campground
- Open year round, we are located in Rutherglen, Ontario on Talon Lake. We are 20 minutes from North Bay & Mattawa and 2 ½ hours North of Barrie. We offer full housekeeping cottages. Enjoy fishing, family vacations, snowmobiling, ice fishing and dining at our fully licensed bar and grill.
Sonny-Bob Lodge
- Sonny-Bob Lodge is located 210 miles North of Sault Ste. Marie on the eastern shore of remote Oba Lake and is accessible by the famous Algoma Central Railway or float plane. Oba Lake has always been known as one of the finest remote walleye lakes; also offering numerous large northern pike, as well as whitefish and jumbo perch.
Kenogaming Lake Lodge
- Located in one of Northern Ontario's finest moose & bear hunting and fishing areas. We provide affordable American Plan vacations. Kenogaming Lake Lodge will stir your heart with memories of scenic wilderness discoveries, wildlife encounters and dawn to dusk fishing! Kenogaming Lake is 11 miles long and offers an abundance of walleye, great northern pike and whitefish. It also provides portage access to over 10 more lakes with excellent speckled (brook) rainbow and lake trout fishing
Ontario Walleye Fishing
""Toss the Versatile 'Flipping Jig' for More and Bigger Bass"
By Justin Hoffman
The flipping jig, or jig-and-pig as it is commonly called, is one of the simplest looking baits on the market that routinely accounts for huge stringers of bass year after year. For the majority of anglers, throwing the bait to the odd dock or tree is the extent of its usage. For those in the know, however, the sky is the limit when it comes to where and how to throw this versatile lure. Learn the ins and outs of the 'jig-and-pig,' and watch your catch rate grow in leaps and bounds.
The Lure at a Glance
The flipping jig is a basic bait that is made up of a weighted head, oversized hook and skirting material while relying on a plastic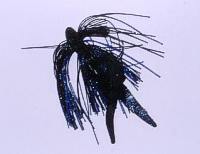 or pork trailer to finish the package off. Make sure your collection has an assortment of jigs that weigh between ¼ and ½ ounce and are in a variety of colours. (Black, blue, green and brown are my most productive hues.) For trailers, the choices are endless. Try any of the pork or plastics available including craws, frogs or lizard shapes. Experimentation is definitely the key when it comes to types, colours and size, and finding what produces best is all part of the game when it comes to flipping for bass.
The Shallow Water Game
This is the most commonly utilized aspect of flipping jigs. Docks, moored boats, blown-in slop and trees are all excellent structure to target, in fact, anything a bass can seek shelter under will work fine. A flipping jig allows the angler a quiet, stealthy approach while offering the bass a large, slow-moving target to strike. The majority of shallow water cover you find on a lake can be hard to fish with conventional lures due to the small strike zone and hook-fouling structure - not so for a flipping jig as the weedless design and vertical presentation make getting at Mr. Bigmouth a breeze.
Shallow water fishing with a flipping jig calls for a quiet presentation (little or no splash is best) and accurate casts (as close to cover as possible.) Making a large splash or dinging your bait off the side of a tree will usually result in a largemouth fleeing the scene. Practice your flipping and pitching techniques before you hit the water to ensure a productive day on your home lake.
Weedlines and Clumps
This is one of my favourite areas to throw a flipping jig, and has accounted for many large fish coming into my boat over the years. Largemouth bass are ambush feeders, meaning that they will conceal themselves in cover and wait for prey to swim by before striking. Weedlines and weed clumps, both in shallow and deep water, hold an enormous population of bass waiting for an easy meal. Not all weed areas are created equal, however. Check that the weeds you are fishing are healthy and green, exhibit a definite edge, and have holes and pockets throughout. These are the type to key in on.
When fishing weedlines, I prefer to work parallel with the edge, flipping my bait ahead of the boat and bringing it slowly back. Letting your jig fall on a slack line to the bottom before giving it a few lifts and hops is a tried and true technique. Many times the bass will clobber the jig on the initial fall, so be ready to set the hook hard if this occurs.