---
---
The Mistakes an Angler Makes
By Justin Hoffman
Mistakes on the water can be a deal breaker when it comes to putting fish in the boat. Whether we subconsciously commit these errors, or tow the bad habits to the launch ramp each time out, they will become a detriment to your angling success. Recognizing our mistakes and how to overcome them will put you back in the drivers seat, leading to more fulfilling days and a significant increase in that bend of the rod.
Relying on Confidence Baits
This may be one of the most common mistakes an angler can make, and we are all guilty of it on a regular basis. A confidence bait is one we use most regularly, has caught fish and feels the most comfortable to work. Although you may be most proficient with a lipless crank or spinnerbait, it certainly is not the only option available to you. Different conditions, structure, seasons or time of day require specific lures or tactics - this is the most important lesson to keep in mind. If you've went a full hour or more without a single hit on your prized lure, change it up, and let the fish dictate what they really want.
Confidence in "other" baits can only come about by using them, and the best way to accomplish this is by trying at least one different lure each time you hit the lake. Before long you will gain confidence and success with all of your baits, leading to more fruitful days on the water. (Besides, if there were only one magic lure, tackle store shelves would appear pretty lonely.)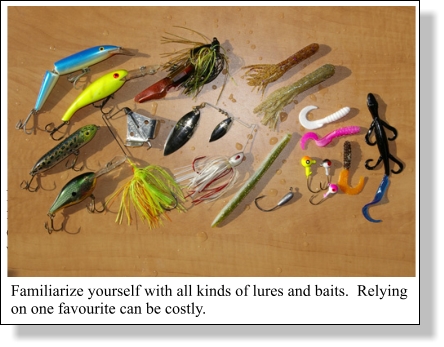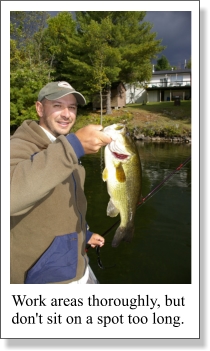 Fishing the Same Spots
How many of us launch the boat into an expansive river or lake, yet fish the same handful of spots time and time again? I imagine most hands are raised. This is another common mistake we make as anglers, and it can really handicap us when it comes to catching fish. Searching out new water can lead to great treasures, and some of my best fishing spots have come by way of exploration. Set a goal of fishing one new area each time you hit the water. If the spot produces, add it to your list. If it fizzles, keep it in mind to try during a different time period, in another season or when weather patterns are considerably different. The aim of this is to discover the entire lake, or as much of it as you can. Because, when the fish aren't biting in your three favourite locales, you'll need to know your way around the water to put those fish in the boat.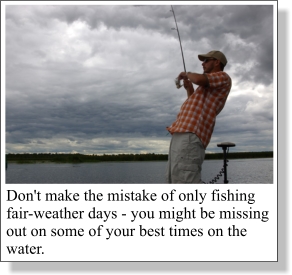 The Fair-Weather Curse
Most of us prefer warm, sunny days with little to no wind. Perfect conditions, right? Many of our favourite fish species may disagree, and herein lies the mistake.
Inclement weather, in the form of rain, wind or clouds, will often turn fish on, leading to feeding windows and better-than-average bites. This holds extremely true for walleye, as well as muskie, pike and smallmouth. Although your comfort levels may be lowered, your chance at better than average fish can go up when the weather gets slightly ugly. (Let me point out, however, that if it is unsafe to venture on the water, please don't do so. Safety always comes first.) For weekend anglers - those that only have a limited window to wet their line - heading out on those "uncomfortable" days is mandatory. You may not come home with a tan, but you might bring a trophy of a lifetime with you.
Sit and Wait
Fish may school up, hunker down during a front or even work the same shoreline when looking for a meal, but they are still swimming machines that use the water to their advantage. For those anglers that sit on a spot and wait the fish out, the minutes may begin to feel like excruciating hours.
Although certain species do require a sit and wait approach (think catfish or carp), working a small area over too long a period can often lead to empty livewells and a lack of hooksets.
When it comes to predatory fish (bass, pike, walleye, muskie), I will work an area over for 15 to 20 minutes before moving on. Now, if it routinely coughs up fish, I may return later in the day to see if the fish have moved up or turned on.
Covering water is the name of the game when catching fish. The more fish that make visual contact with your presentation, the better the likelihood that they will take the bait. So the next time you drop that anchor or sit on a spot, be sure to look for greener pastures when the action fails to come to you.
Preparedness and Concentration
These traits can become costly mistakes if they are not adhered to. Preparedness can run the gamut, but includes such things as sharpening hooks throughout the fishing day, regularly applying scent, checking line and of course, knot strength. These are just a few of many, but represent a list that can improve your catch rates if done routinely, or create a weak link when neglected. As I've said - mistakes do happen - but these are of the preventable kind.
Concentration is also key to catching more fish. Make each cast count, work the bait to your utmost capacity on every retrieve and be ready for when that big fish strikes. Trophy fish are a rare breed, so think of each cast as "the one", and you'll lessen the chance of losing her when she finally decides to come out and play.
Mistakes in fishing are common, but learning to identify them while strengthening your approach, will lead to better days on the angling horizon…and what's not to love about that.