---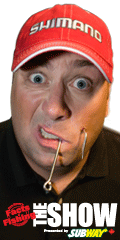 ---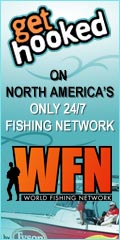 ---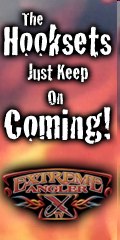 ---
---
Editors & Publishers
T.J. & Monique Quesnel
The Ontario Fishing Network E-Magazine is published 12 times a year on or near the beginning of every month. Our magazine is geared to any angler who enjoys fishing of any type in the wonderfully diverse province of Ontario.
Editorial Submissions: We welcome query letters, but assume no responsibility for unsolicited materials.
Subscriptions: Subscriptions are FREE of charge and delivered via email. You can subscribe HERE:
Privacy Policy: Unlike other publications We NEVER make our subscribers list (your email address) available to any other companies.
Advertising: If you are interested in advertising please email us.
Circulation - 8,200 email subscribers
© 2008 Due North Marketing / Ontario Fishing Network / T.J. Quesnel. All rights reserved. Reproduction of any material without prior written permission strictly prohibited.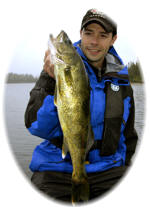 Run and Gun Ice Lake Trout
By Tim Allard

When winter wraps its cold grip over the landscape, a lot of underwater life slows down. Warm-water fish get lethargic. This is not the case for cold-water species, like lake trout. Lakers prefer frigid waters. They aggressively feed and are frequently on the move in winter. To succeed at finding and catching these silver, spotted fish, adopt a run-and-gun approach. For any angler, catching a few wintertime lake trout will surely shake off a case of the winter blues.

Get Mobile and Cover Water
Think of fishing lake trout through the ice like running-and-gunning for summertime bass. The objective is to cover water searching for active fish. On the ice a portable ice hut is your bass boat. Portable huts hold your gear and make moves easier. Teamed with an ATV or snow machine moving long distances is easy. Portable ice huts also protect you from wind and snow. This is important not only from a safety perspective, but when youíre comfortable you fish more effectively.

Winter Disposition and Food
Lakers are frequently hunting beneath the ice. No longer imprisoned by the summer thermocline, they roam a variety of depths. Be prepared to fish the entire water column. Lakers will swim a distance to strike a lure, so it wonít take long to determine if there are any in the vicinity.

Content with cold-water temperatures food is the main factor influencing lake trout location. On a lake I fish, youíre sure to find lake trout when you mark schools of smelt on your electronics. Trying to figure out where smelt and lake trout are on a lake can be intimidating, but it doesnít have to be if you do some homework and study a hydrographic map.

Focus on Structure
Trout work in a pack, herding and ambushing their prey. They frequently trap their forage against structures, capturing disoriented baitfish. Keep this tactic in mind when studying a map. Top structures to fish for lakers are the following: off shore reefs, saddles and spines. Significant breaks on these structures make them even better. Underwater narrows and other funnelling structures are other good spots.

Remember, lake trout and their forage are moving more than sedentary, warm-water fish species, so you need to cover water to find them. Donít discount a spot if unsuccessful the first time you fish it. When fishing a new lake, try the same area a few times through the day. If you mark baitfish on your electronics fish them thoroughly. If not, make it a quick visit and aggressively work baits. If after jigging a few holes you donít hook any fish, move to the next area.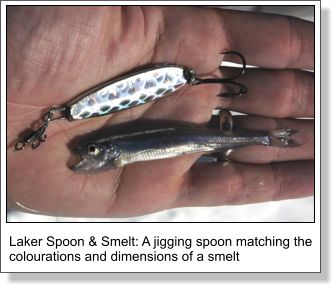 Laker Baits
View lake trout lures as search lures. Flash, rattles, bright colours and a lot of action are the traits of good baits. Carry fairly heavy lures to easily work deep water.

Swimbaits, spoons, and airplane or glider jigs are all prime baits for lake trout. White, silver, light blue and grey are good colors. Hot color highlights can add even more appeal. Glow paint can also be deadly.

Lake trout hits are often aggressive. Some factory trebles on jigging spoons and swimbaits wonít stand up to their jarring hits or drag-peeling runs. Replace hooks with high quality ones and be assured theyíll stick when you set the hook.

Swivels with quality ball bearings are another important piece of terminal tackle for lake trout. They keep twist out of line when youíre rapidly working baits. Snap-swivels let you quickly change lures.

Lake Trout Gear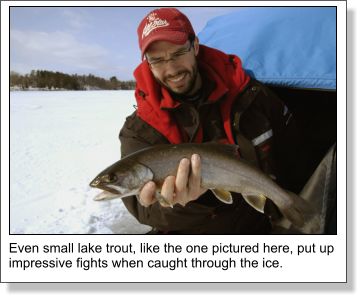 You need strong rods and reels with smooth drags to absorb the spunky fight of lakers. Medium-heavy to heavy action rods are good and help you snap jigging baits all day. Use spinning or a baitcast rods. Spool the respective reels with at least 10 pound-test line. I like superlines for these fish.

You want a reel with decent line capacity to fish deep water. You may be 45 feet down when you hook a fish and it decides to peel off a bunch of line. Low-grade ice fishing reels sold on many rod-reel combos wonít handle lake trout runs. Use quality ones with smooth drags.

Targeting lake trout through the ice is one of the most exciting forms of winter angling. These fish aggressively hit lures and put up impressive fights. Catching several lakes through the ice will leave a good impression with any level of angler.
---