---
---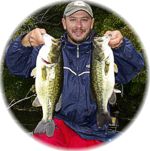 "Eastern Ontario Threesome"
Skootamatta, Big Gull and Kashwakamak Lakes
By Justin Hoffman

The heat of the September morning was stifling as I rumbled down the busy 417 Highway, the Ottawa landscape fading from view with my sight set westward. While my trusty aluminum followed closely behind - overburdened with rods, tackle and luggage - thoughts of feisty fish began to slowly dance within my head.

Just over an hour into my drive, and with Highway 7 as a new companion, I spot the first road sign welcoming me to the Land O' Lakes region.

Located in Eastern Ontario, Land O' Lakes stretches from the shores of Lake Ontario at Amherst Island, through the rugged Canadian Shield and northward 160-kilometres to the Madawaska Valley highlands. Within its expansive perimeter lie more than 5000 lakes, exquisite in beauty and all beckoning for a fishing line to be cast.

My destination on this day would be Skootamatta Lake, located in the town of Cloyne and approximately two hours from the Nation's Capital. For the next four days I would explore, interpret and digest the tremendous fishing opportunities that abound, all from the comfort of my rustic cabin retreat at Loon Lake Lodge.

From there I would set sail for Big Gull and Kashwakamak Lakes, scouring the water and soaking up the most productive tactics.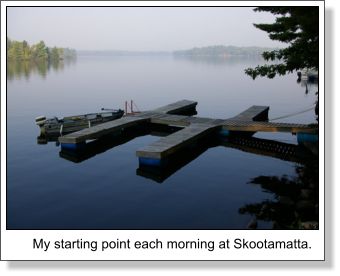 Skootamatta Lake
Just a short ride north from Kaladar up Highway 41, lies an impressive body of water. Located in the Addington Highlands, and just south of Bon Echo Provincial Park, Skootamatta Lake is like a polished jewel in the rough surroundings of Crown Land.

As I enter the cavernous dining lodge, my hosts for this excursion graciously greet me. Don Naduriak, his wife Diane and their son Darren appear to be seasoned pros when it comes to running a lodge, so it came as a surprise to discover that 2005 was their first year of business.

After a quick bite to eat, it was time to get the boat in the water. A large concrete ramp can be found within walking distance from the lodge, off Trails End Road, with ample parking on the opposite side of the laneway.

Skootamatta Lake may appear large and intimidating on paper, but that isn't the case. At 3028-acres in size, and a shoreline that covers 49-kilometres, the lake is divided into two distinct parts. The west arm is more natural in state, due to an overwhelming backdrop of Crown Land, while the east arm has cottages dotting the shoreline here and there.

With a maximum depth of 30-metres, and an average depth of seven, this rock-strewn lake holds healthy populations of small and largemouth bass, walleye and northern pike.

Setting off from the launch, the DNA of Skootamatta begins to slowly unravel. As in typical Canadian Shield fashion, rocky points, islands, sand flats and sparse weeds are the common ingredients of structure. A small island off of O'Borne Point is the first to catch my attention, and in less than a minute, I'm taking my first cast.

Working a crawdad-coloured tube in 15-feet of water was the ticket for the first fish of the trip – a chunky two-and-a-half pound smallie. Numerous others fell prey to the same presentation, with smoke, watermelon and white tubes producing best.

Underwater humps also held big fish, and one I discovered close to the lodge was rewarding. A Zara Spook and tube jigs contributed to a half dozen good-sized fish throughout the evening.

Dave Lyons, an employee of Grand's General Store and Baitshop in Cloyne and a retired guide of 30 years, offered this: "When targeting smallies, some of my better catches have come on jigs tipped with live leeches, and of course bait-rigged spinners." Topwater baits worked particularly well throughout the four days, and to my amazement, oftentimes in water that exceeded sixty-feet deep. This occurred when fish were suspended over deep water and busting baitfish on the surface. In fact, guests in the adjacent cabin landed two fish over five-pounds by working this technique.

Spots that routinely coughed up fish were Big Island, Blake Island and the west arm coves and shoals.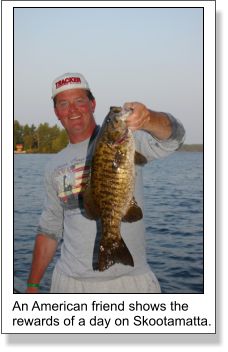 Largemouth are a much tougher fish to find on Skootamatta, but when you do the size is routinely above average. Laydowns and weeds are two prime spots worth checking, as are the numerous sand flats. The channel that intersects the two "lakes" provided the most action, as did the Skootamatta River and south of Big Island.

Lyon's prefers bulky tubes when fishing the weed edges for largemouth, with live frogs also taking their fair share of big bass. I had success tossing crayfish-coloured flipping jigs on sand/rock structure, while flashy white spinnerbaits accounted for a few fish.

Walleye are prominent in Skootamatta, and a twenty-inch average is the norm. "The walleye fishing is best during the spring and fall, although they have been caught regularly through the months all this year," stated Don.

Although I only spent one day targeting them, a few fish were caught in the west arm, adjacent to Killer Creek. White twistertails worked in fourteen-feet of water were the ticket.

"Slow trolling small and flashy deep-diving Rapala baits are the most effective way of catching walleye that I have seen this year," said Darren. Lyons seemed to concur, as his favourite walleye baits include jointed fluorescent red or chartreuse Rapala's, double gold spinner rigs tipped with minnows, and chartreuse and white jig heads coupled with leeches.

"When fishing during the summer, work the shady side of rock bars and shoals in less than twelve-feet of water. When the sun begins to dip, move up to water that is between 6 and 8-feet deep. And as fall rolls around, and after turnover is complete, concentrate on water deeper than twenty-feet," stated Lyons. Good advice from someone with a twelve-and-a-half pound Skootamatta walleye to his name.

Areas of mention are the west finger humps, the east side of Blake and Big Island and the trolling route between O'Borne Point and Big Island.

Northern pike reign supreme in Skootamatta, and the smelt forage base coupled with deep water allows them to grow big and mean. Although I only came across hammerhandles during my brief stay, stories of a twenty-three pounder caught during a previous year certainly made my pulse quicken.

"Pike were caught all year, although spring and fall are generally best. Live bait was the most effective, although spoons and plugs also caught their share of fish," stated Don.

According to Lyons, sucker or chub minnows, red and white spoons, Lucky Strike wooden plugs and large spinnerbaits all have their time and place. Spots he suggested were north of the Skootamatta River, in front of Killer Creek and adjacent to any of the deep scattered weedbeds.

With four days passing quickly, and all four species firmly under my belt, the time had come to pack up my belongings and move on. Although I arrived during the most intense heat wave of the season, the fish were still co-operative. As I pulled the boat out, I whispered one last promise to Skootamatta – to most certainly return one day soon.

Big Gull
Located east of Skootamatta, and nestled in the Township of Frontenac, lies the expansive waters of Big Gull Lake. Surrounded by thousands of acres of Crown Land, remoteness in an easily accessible fishing spot is the first thing that comes to mind. Being the largest of the three lakes, Big Gull certainly deserves its name. At 5840 acres and covering 88.5-kilometres of shoreline, this lake can be overwhelming to the first timer, but don't let that scare you away.

Big Gull has the appearance of two lakes, a small one in the west and a larger one to the east. The west lake is quite shallow and tops off at approximately three-metres. Many locals refer to this portion of the water as Little Gull Lake.

It was two days before Halloween when I decided to test these waters out, and my companion for the day would be none other than my father, Ken. As we made our way north up Highway 509, and cut west along Ardoch Road, the ominous clouds and cold temperature began to get our attention. Conditions would be tough, but optimism was the key word that day.

A launch is located at the far eastern end of the lake, directly adjacent to Ardoch Road, and less than two-kilometres south of Coxvale. The concrete ramp was adequate for getting onto the lake, although parking was quite minimal.

As we launched into the clear water and steered the boat west, deciding on a species to target would be our next big decision. Smallmouth bass and walleye were the obvious choice.

Variety of fish is a nice aspect of this lake, as largemouth, northerns, musky and numerous panfish are also present.

It didn't take Dad long to get the first fish of the day. Working along the east side of Long Island with a four-inch twistertail and pink jig head, he set the hook into a chunky two-and-a-half pound smallie. This fish was holding just off a weedbed in four-metres of water.

Jim Walker, owner of Kirk Kove Cottages, had this to say about the bass fishing: "Smallmouth bass are quite abundant here on Big Gull and will bite almost anything, but some of the most popular lures are plastic shads, twistertails (white), plastic crayfish and Senko-style baits. When it comes to live bait, leeches work well throughout the summer, with minnows and frogs taking over in the fall."

Tube jigs are a great bait for Big Gull smallies, as I discovered over the next two hours. Drag your bait along bottom, and concentrate on the numerous points, islands and shoals that litter the lake. Brown and smoke produced best.

The average size smallmouth is in excess of two-pounds, and landing a fish greater than five-pounds is not uncommon. Pinnacle Point, Big Boundary Island and Upper Sister Island all deserve a cast.

Largemouth bass are quite abundant throughout Big Gull, especially when targeting fallen trees, docks and weedbeds. "Largemouth fishing is good from opening day until mid-October," stated Murray Finch, the proprietor of Camp's Bay Cottages and Marine. "A seven-pound largemouth is the most momentous catch we've had at the lodge over the years." Finch also said that spinnerbaits and surface lures work well for the bass here, although live bait can never be forgotten.

My father and I got into a few largies that day, but nothing of great size. Although it was too late in the season for the pattern to work, hitting the numerous fallen trees that line shorelines would be productive during the summer months. The weedy section of "Little Gull Lake," as well as the fingers found below Deer Lake also hold good fish.

The most popular and plentiful gamefish on Big Gull is the walleye. According to Finch, lures to stock the tackle box with are Wally Diver's and Rapala's, worm harnesses, bucktail jigs and floating jig heads, as well as worms, leeches and minnows. Key colours are chartreuse, fluorescent green, white and red/orange.

"The opening of the season until the end of June is good for catching walleye, as is the end of August until mid to late October," Finch explained.

"Walleye bite well on Lindy rigs tipped with a worm or leech in the spring and summer, working depths of 14 to 18-feet. Trying water as deep as 30-feet is a good bet by late August. Fall fishing for walleye may require minnows or frogs close in to shore, especially at night. Try using floating Rapala's and perch-coloured shad raps during the summer months," added Walker.

Don't be surprised if you land a trophy on Big Gull – both Walker and Finch have witnessed guests catch a 12-plus pound and a 13.5-pound fish respectively!

Pike and musky are relatively under-fished on Big Gull. Large flashy spoons, big crankbaits and live chubs or suckers all produce, while trolling is an excellent option for covering water.

I managed to get a decent pike while casting a six-inch jerkbait. It came from two-metres of water off the side of a small island. My father also witnessed a hefty fish follow his crankbait up to the boat, before slowly sinking out of sight.

---
---

"There are many sighting of large pike or musky trying to take caught fish being retrieved to the boat. Nice musky in excess of 44-inches have been taken, and I'm sure there are many larger ones swimming. It is an overlooked species here," said Walker. Finch has seen pike in excess of 18-pounds brought into his lodge, as well as a 22-pound tiger musky.

As the afternoon faded away and we slowly made our way to the launch, I knew it would take another trip or two to fully appreciate all that Big Gull can offer. A conversation with Walker months later summed it up for me: "Big Gull Lake has such a diverse under water structure with its many shoals, islands, points and bays, that one's fishing success is only limited to their fishing ability. It may take more than one attempt to feel out a lake of this size, but you can't find a prettier place to put in your time."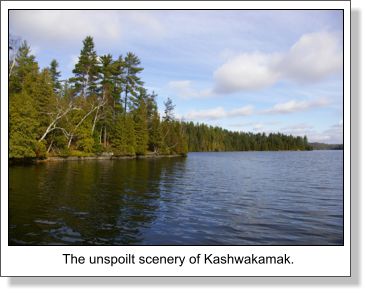 Kashwakamak Lake
Less than a week after our Big Gull adventure, it was time for a final stop at Kashwakamak Lake. Commonly referred to as Long Lake, Kashwakamak offers 66-kilometres of shoreline and 2,866-acres of fishing fun. It is a long and narrow lake, with a maximum depth of 21-metres and an average of 12. Belonging to the Mississippi River system, it features a dam just past the eastern end of the lake.

With cold temperatures greeting my father and I, we accessed one of the two public launches adjacent to Kashwakamak Lake Road. The dirt and gravel ramp was more than adequate for small to medium-sized boats, although the road going in was steep and bumpy at places.

Heading out into the clear skies and calm conditions, I noted how narrow this lake is. With mainly coniferous trees as a backdrop, it takes on the feeling of a remote lake, yet is relatively close to many of the urban centres of Ontario.

Species are very similar to the previous lakes, with walleye, largemouth bass, smallmouth bass and northern pike being the most sought after. Panfish are also plentiful.

Kevin Phillips, who operates Fernleigh Lodge with his wife Melissa, relayed this information: "Kashwakamak is well-known for its walleye fishing, with the average fish weighing two-pounds. The best time to fish this specie is from May to June, and again in September."

As for techniques, Phillips prefers to keep it simple: "Some of the biggest fish have been caught using no more than a #4 hook and a lively leech. And one of our guests last fall caught a 12-pound walleye simply using minnows."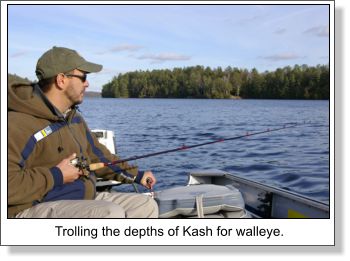 Trolling is another tactic, and one that produced for me this outing. Working a chartreuse Wally Diver on long line fooled two chunky walleye toward the end of the day. Both were caught off an island in seven-metres of water.

Gary Simpson, proprietor of King's Cottages and Marina, had these words of advice: "I find most people like trolling with a worm harness, or bouncing bottom with a floating jig tipped with a leech. Targeting walleyes in September is quite good due to the lack of boat traffic, and the bugs are pretty much gone."

Areas to concentrate on are Ikthoos Island, the mouth of Brown's Bay and many of the points that litter the lake.

Smallmouth bass are found in good numbers throughout Kashwakamak, and the drop-offs and underwater rock piles provide excellent structure. Simpson puts a lot of faith in topwaters - especially buzzbaits - and crankbaits. Phillips, on the other hand, suggests minnows during the active fall period, and worms and leeches during the summer months.

I tossed around a lot of tube jigs and grubs, and found both worked equally well. Natural browns, greens and white were the lucky colours, and a heavy jig head was key. Targeting shallow shoals and rock during early morning and evening can provide excellent topwater thrills, especially during the summer months. Fish will turn up the feedbag come fall, but will be found in deeper water. They will also suspend over the deep water of Kashwakamak, so trolling is another option.

Although my father and I didn't target largemouth, reports confirm that the fishing is very good. According to Phillips, the average size is just over two-pounds, with many four-plus pound fish caught each year. He recommends topwater lures and spinnerbaits, as well as jig heads tipped with a leech or worm. Flipping jigs, as well as Texas-rigged lizards, worms or craws also work well. Concentrate on any weed or wood you can find, and don't discount steep rock points and shorelines once fall arrives.

Mitchell Bay and Brown's Bay are good spots to try, especially during the warmer months.

"When pike fishing, it seems that the bigger the bait, the bigger the fish. Large chubs are very productive during the spring and fall. Oversized spoons have also been a big hit as well," explained Phillips. "The best time to fish the lake for good-sized pike is definitely during the spring and fall."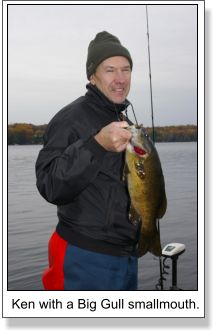 Large spinnerbaits, crankbaits and bucktails will all catch their share of northerns, especially when targeting the shallow back bays or rocky points. Flashy colours, including white, chartreuse, red and orange all work well.

On our trip, my Dad lost a decent fish of about eight-pounds before I could get the net underneath her. She was a solid fish that smacked a six-inch jointed Rapala while trolling amongst the islands of Echo Bay.

The average size pike runs approximately three or four-pounds on Kashwakamak, although both lodge owner have witnessed some big fish over the years.

For those needing excitement, toss a noisy topwater bait around the weedy bays and coves. The pike are aggressive here, and the action can be heart stopping.

With the light slowly fading, we made our way back to the launch ramp. This would be our last outing of the year, as the snow would soon be falling. Kashwakamak provided us with a variety of fish, breathtaking scenery and best of all, some wonderful father and son memories. Now that's a great day of fishing in my books.
---
---
In This Issue
Run and Gun Ice Lake Trout
By Tim Allard
Eastern Ontario Threesome
Skootamatta, Big Gull and Kashwakamak Lakes
By Justin Hoffman
Memquisit Lodge
The clear, clean water of Lake Nipissing is noted for Small-mouth Bass, Walleye (Pickerel), great Northern Pike, Muskellunge and other game fish
Product Showcase
HangAir Snowsuit Drying System
Get North! Stressed? need a vacation? -Visit Get North to find your Northern Ontario get-away!
Fishing Lodge Classifieds -Come fish your heart out at one of these many Lodges, Camps and Resorts.
Archived Articles - Click here to see articles from past E-Magazines