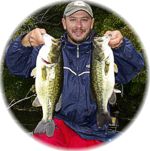 Shake Your Way to More Bass
By Justin Hoffman
The "shaky head" phenomenon has walloped the bass angling community by storm, garnering this finesse-style of fishing plenty of water time. Although the technique is still in its infancy, the doors it can open (especially when targeting those hard-to-catch bass,) make the application a must-have for this upcoming season.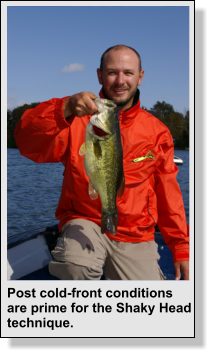 The Lowdown on the Shaky
A shaky head is the term given to a new style of jig, with a few refinements that put it in a separate class from the good 'ole lead head. Most shaky's consist of a lightweight (1/16 to 1/4oz) ball-headed jig, coupled with a light-wire bass-style hook. A retainer system is standard with most, allowing your plastics to be affixed to the jig snug and securely, giving a weedless rigging option for when dealing with cover.
The design of the head, along with the eye position, creates a "stand-up" target for fish to hone in on. This, along with the action and plastic rigging, gives the bait its magical allure.
Shaky head fishing is meant to be a finesse presentation. And with that comes the use of the plastic finesse worm. These three to five-inch worms, with their thin profile and subtle appearance, are the main reason why this technique can be so deadly. They offer an unobtrusive and natural offering, guaranteed to whet the appetite of any finicky bass they are strutted in front of.
Since we are dealing with an ultra finesse presentation, spinning gear and light line are the standard choices for equipment. Monofilament in six or eight-pound test often get the nod, as does fine-diametre braid coupled with a fluorocarbon leader. If conditions are clear, fish are finicky, or your presentation is streamlined in terms of weight, err on the side of the lightest line possible.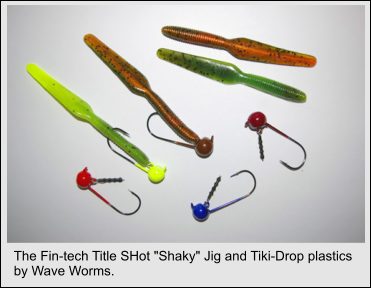 When To Shake
Chasing bass is predominantly done in the form of power-style fishing. Big baits, quick speeds, and over-the-head hooksets are often the norm. There are times, however, when a subtle and overtly finesse approach will reap better rewards. Don't get me wrong - if burning spinnerbaits or erratically snapping cranks is bringing in the fish, don't sway from that winning technique. But if fish are few and far between, then switching gears to the shaky may be your best bet that day.
The shaky head presentation excels during certain conditions. Clear water is one of those. The clearer the water, the greater the chance of fish being overtly finicky or spooked when working them over. Regular baits just won't cut it most of the time. A shaky head and finesse worm, subtlely twitched and quivered on bottom, can often be the one lure of redemption that can be pulled from your box.
Cold fronts are another scenario where shaky's can shine. When the bluebird skies come out after the passing of a front, fish can literally shut down. We've all experienced this before. Finesse is key during this less-than-ideal condition, and a finesse worm and jig combo is a good place to start.
Shaky heads also make an excellent tool for sight fishing, as its appearance looks good enough to eat to Mr. Bass, and it won't spook fish like more conventional baits might.
They also make a great technique when dealing with high angling pressure, especially when working "community" fishing holes. In fact, some tournament co-anglers have had phenomenal success when fishing shaky's from the back of the boat, while the pro's worked larger, power presentations from the front. (Kind of like choosing to take the mint and pass on the dessert.)
The key to keep in mind is that these baits are for less aggressive bass. When conditions are favourable, they definitely can shine.
How To Shake
The beauty of the shaky head is in its ease of use. Although there are a few ways to fish this rig, a light, quivering motion with the rod tip or slack line is often all that is needed. In fact, the finesse worm will sway and undulate even when left to its own accord. Slowly dragging the bait along bottom, especially if working an expanded area, will also attract attention.
Simply put - it's a tough bait to work wrong. As long as movements are subtle and in line with the finesse presentation you are projecting, the fish will definitely take notice. Hook sets should be in the form of a "sweep" motion. No need for the overpowering overheads with these guys. I also find it useful to start reeling on the initial sweep, in order to pick up line and help in burying the hook.The shaky head can be thrown pretty much everywhere, but some key areas would be alongside weedlines and clumps, beaches and points, deep humps, docks, and laydowns. And in terms of fish - smallies and largemouth both love this bait. I throw it as much to one as I do the other.
Best Baits
The new Title Shot "Shaky" Jig from Fin-tech (www.jigfish.com) promises to be a good bait this coming season. The collapsible retainer offers a greater bite and increased hooking percentage, and by keeping a standard sized hook (2/0), regardless of head weight, allows the jig to remain a finesse presentation and not overpowering in comparison to your chosen plastics.

I really like the 3.5" Tiki-Drop plastics from Wave Worms (www.wavefishing.com.) The flat tail design provides a greater shaking and quivering action, and the colours and body profile really work well for this application. The 4.5" Tiki-Finesse is also another great bait.

See what the Shaky Head fuss is all about this coming season. When conditions are favourable, it might just be the one bait that can bring home the fish.
---