---
---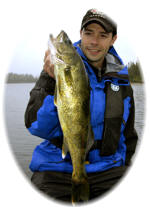 Walleye Season - Opener Jigging Tips
By Tim Allard www.timallard.ca

With this year's open-water walleye season here (or soon to be), it's hard not to get excited. A multi-species angler, I have an affinity for early season walleye fishing as I'm sure many of you do. To help you get the most out of your time on the water, here are a few jigging tips to help you put more walleyes in your landing net.

Bring on the Blades
Worm harnesses and live bait rigs often use spinner blades. Overlooked by many anglers is integrating the appeal of a blade into a jigging presentation. One option is using jig spinners; Mister Twister and Northland both make good products. To make the rig, attach the spinner's clip to the jig's line tie and you'll turn the jig into a mini spinnerbait. The safety-pin, wire shaft acts as a weed and brush guard. The blade adds flash and vibration.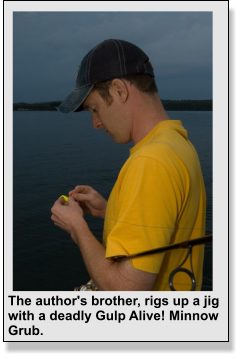 The second option for blade-rigging is using specialty jig heads featuring belly blades. Northland's Thumper Jig or Road Runner's Walleye Glow Heads are two examples. Tighter to the body than a wire spinner, these jig heads deliver a compact flash to swimbaits. Also, because the blade's swivel is connected directly into the jig head, it will flutter and flicker with every twitch or drop of the rod tip during the retrieve, no matter how minute. These are better suited for open areas as they don't offer the same snag resistant qualities as spinner jigs. On slack line a bladed jig's fall is painfully tempting to walleye. The blade flutters and the jig tail flaps portraying a vulnerable, injured morsel.

Use Scented Soft Bait
If you're a jig fisherman and still using plain plastic twister tails, you're likely missing out on fish. Scent-impregnated and salt-infused plastics make fish hold on when they bite. There are a variety of products on the market, but Berkley's Gulp Alive is really putting more bends in the rods of weekend and tournament anglers alike.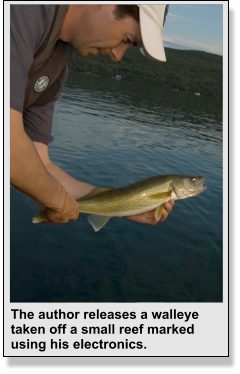 Become a Fan of Feathers and Hair
As much as super-scented soft baits are deadly on walleye, it's always good to have a few different jig presentations in your box. This way you're prepared when fish get finicky and demand a very specific presentation. For this reason, I carry a good selection of bucktail and marabou jigs. Whether fished alone or tipped with a minnow, leach, or night crawler. I've had these jigs trigger hits from walleye when other lures didn't produce. I attribute a lot of this to the fact when at rest the materials in these jigs come alive underwater. Even in the lightest current, the hair and feathers wave and flare with natural movements often too temping for a walleye to resist.

Get a Sensitive Stick
If you're a fan of jigging for walleye investing in a quality jigging rod is wise use of your dollars. There are a variety of excellent products on the market. A high-end rod delivers excellent sensitivity to detect light bites, but will be designed to deliver plenty of power for landing big fish. A quality stick should also be extremely light, making them a joy to fish with all day. If you're looking for an excuse to treat yourself to a new piece of fishing gear, consider this paragraph all the reason you need.

Master Your Electronics
Most successful walleye professionals are angling-electronic gurus. Whether you own an expensive colour-display unit or have a reliable, black-and-white screen model, spend some time before season begins on the water improving your sonar skills. Beyond reviewing your owner's manual, Internet searches and visiting your sonar company's website for tips and tutorials are great ways to shorten the learning curve. As jigging is often structure-focused fishing, becoming more adept with sonar makes you more prone to select the best fishing areas.

Try these walleye jigging tips this season. I trust they'll boat you a few more bragging-sized fish.