---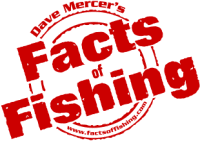 ---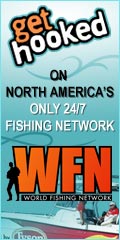 ---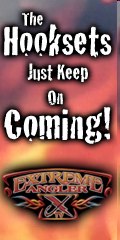 ---
---
Editors & Publishers
T.J. & Monique Quesnel
The Ontario Fishing Network E-Magazine is published 12 times a year on or near the beginning of every month. Our magazine is geared to any angler who enjoys fishing of any type in the wonderfully diverse province of Ontario.
Editorial Submissions: We welcome query letters, but assume no responsibility for unsolicited materials.
Subscriptions: Subscriptions are FREE of charge and delivered via email.
You can subscribe HERE:
Privacy Policy: Unlike other publications We NEVER make our subscribers list (your email address) available to any other companies.
Advertising: If you are interested in advertising please email us.
Circulation - 8,500 email subscribers
© 2009 Due North Marketing / Ontario Fishing Network / T.J. Quesnel. All rights reserved. Reproduction of any material without prior written permission strictly prohibited.
Icing Rainbow Trout
By Tim Allard

Every year thousands of rainbow trout are stocked in many lakes. Targeting these chrome-coloured fish makes for exciting ice angling. These worthy adversaries will test your angling skills, demanding finesse presentations at times and peeling line with bursts of speed once hooked. Not to mention they're darn tasty on the dinner table. Here's where to find them and how to hook them this ice season.

Winter Activity
A cold-water fish, rainbows stay active and feed throughout the winter, munching on a variety of food items from aquatic insects to minnows. Dawn and dusk are peak fishing times on most inland lakes. At mid day rainbows often cruise the shallows or suspend in deep water. Feeding activity usually slows during this time but you will still intercept cruising fish.

Winter Location
Shallow bays and shorelines mixed with any remaining healthy weeds are prime areas at first ice. These locations hold a menu of baitfish and aquatic insects. Rocky points and slow-tapering flats are other productive zones. During mid-winter rainbows move deeper, relating to sharp breaks and reefs. They also suspend off of structures. At late ice, trout again relate to shallow water areas. Rock structures on shorelines, steep rock walls, boulder piles, and points are prime late season spots.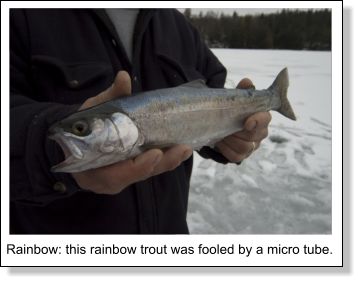 Rainbow Tackle
Rainbows have good eyesight and can be quite selective of the lures they hit. Light line, finesse presentations and small baits are important details when fishing clear waters.

Use medium to light action rods with sensitive tips for jigging. I like a rod to be at least 26-inches or longer. Length equates to leverage for battling feisty rainbows. A longer rod also absorbs headshakes, reducing stress on the line. I use four-pound test line, but drop to three- or two-pound test when fish are fickle.

Jigging Spoons
A standard lift-fall-hold jigging sequence works best with spoons. The flash and vibrations call in aggressive rainbows, imitating an injured minnow. Rainbows often hit spoons aggressively. If you need to finesse them, jiggle the spoon with slight shakes of the rod. Don't get caught up trying to coax rainbows with spoons though. If you can't get them to hit a bait in less than 30 seconds, they've likely moved on. Repeat your initial jigging sequence to bring them back or attract others.

Sweeten spoons with bait. Live maggots are a dynamite tipping option. Re-bait often so spoons stay smelly. Artificial baits are effective and less hassle to keep. I tear artificial baits in half when tipping small spoons. This ensures tipping doesn't overshadow the lure's profile or ruin its action.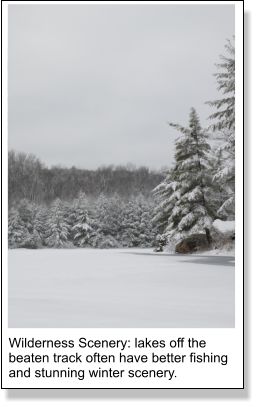 Ice Jigs
Ice jigs are my next favourite bait for rainbows as they imitate nymphs and aquatic insects. I use them when spoons aren't producing or I need a finesse presentation, often during midwinter. Always tip jigs with live maggots or artificial bait.

Extremely light jiggles of the rod cause a jig to kick, pivoting at the hook eye. This triggering move is deadly when combined with a slow arm raise and occasional pauses. The sequence imitates a swimming creature and effectively works the entire water column.

Tiny Plastics
Small 1.5 to two-inch plastic jigs, like tubes or grubs, are other productive baits for rainbows. One late-ice outing last season, Berkley's Atomic Teasers in white were the top bait. Rainbows seemed to favor the plastics' larger profile. Work these baits with a lift-fall-hold sequence while mixing in various hops and quivers. Snapping the wrist and letting a jig freefall on slack line also attracts trout.

Don't Discount Deadsticks
To better your odds at icing trout, be sure to set out additional lines when legal. As trout are notorious cruisers, sometimes it's better to set up several lines on a prime area and wait for them to travel ino your baits. The two best producers I've used over the years have been small 0.25- to 0.5-inch worm pieces on a small bait or octopus hook below a small split shot. This offering is a rough replication of many of the aquatic morsels trout feed on, like nympths. The other deadly set line offering is a three inch minnow rigged on a similar hook and weight set up. Although trout eat plenty of invertebrates big ones are often inclined to hit baitfish when available. Stagger set lines at different depths is good practice as rainbows will cruise throughout the water column.

Invest the time to fish rainbows this winter. The best action is likely to be on remote lakes. Getting to them is worth the extra effort, especially when you catch a few fish amidst stunning winter wilderness scenery.

Photos by Tim Allard
---