---
---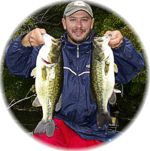 "Pulling Largies Through the Ice"

By Justin Hoffman

Author's Note – Ice fishing for largemouth bass is a legal sport in many parts of Ontario. Currently, Zones 2, 3, 4, 5, 6, 7, 8, and 9 offer a year-round fishery for this specie. The season closes on December 31 in Zone 11.
Please check your regulations carefully, paying attention to any restrictions, size limits, or closures. DO NOT fish for bass where it is illegal to do so.


Catching largemouth bass through the hardened surface of northern Ontario lakes is an exercise in fun, thrills and excitement. While most ice angler's turn to panfish or walleye to whet their appetite, those that are searching for line-peeling pulls and hefty weights need look no further than old greenback himself.

Understanding locational factors and on-ice techniques will get you into the thick of things, while also creating a never-ending bass season for those willing to give it a try. You gotta love that!

The "Fall Factor"
The first step to locating winter largemouth, is to determine the areas you caught them from during the late fall. Once the ice sets, most largemouth won't stray far from these patterns, mainly preferring to hang around the outside weed edges that form along breaklines, and in and around the perimeter of weed-choked bays. Think of the same places you pitched a heavy flipping jig while the leaves changed color, and you've got your starting point.

The most important part of the cold-water equation is weed growth. Cabbage is the first choice, and vegetation such as this will stay green through most of the season. Baitfish will relate to this underwater salad, both for the microorganisms it provides, as well as the influx of oxygen. This in turn keeps the largemouth fairly confined, for the protection, food and H2O.

The thicker the weed the better. Largies will cling to this salad, snuggle up inside it, or patrol the edges, all depending on their mood that day. Regardless of where they are found in the vegetation, they can all be caught with the right tactics.

Starting Out
Figuring out where to drill holes is your first step when out on the ice. With the advent of GPS units, many anglers are marking productive waypoints during open water, for which to return to once the surface stiffens up. If you have this tool at your disposal, your fall bass excursions should become a time for recording your hotspots.

Without a GPS, the task is left to the wonders of the auger. Start drilling holes out from shoreline areas. You are searching for both weedbeds and edges. Electronics, such as a Vexilar unit or underwater camera can help in simplifying this task.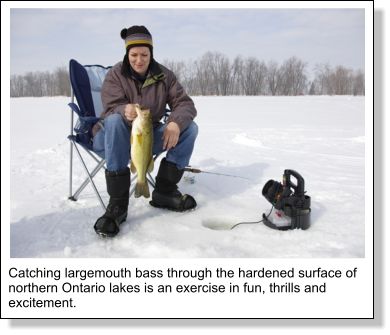 Once you have come in contact with the green stuff, position your holes in the thick of it, in between weed beds and along the edge. Largies will utilize all of these areas throughout the course of the day, so having the adequate amount of holes drilled will enable you to cover all bases.

Although there is no set-in-stone depth for connecting with largemouth bass, for the most part, I have found them to be in water between six and 15 feet deep. First ice will usually find them in more shallow water, with a shift to the deep stuff once the season progresses.

If you are connecting with panfish while searching for largies, you are most likely in the right spot. Largemouth will follow these schools of prey, and getting incidental catches of pannies is a gimme when seeking out green bass. They will occupy the same space of water, so catching one is a sure sign of the other.

Getting Them to Bite
I prefer to take a two-prong approach to catching largies through the ice. Where legal, a stationary tip up is placed down a hole. Nothing fancy is needed, other than weight to keep your presentation close to bottom. Pierce a three or four-inch shiner minnow through the back with a #4 or #2 hook, and set the depth of your lively bait approximately one to two-feet off bottom. Most largies will hug or cruise close to the bottom during the dead of winter, so being in the strike zone is paramount to success.

Experiment with the placement of your tip up, by positioning it either on the edge of weeds, in the thick of things, or in amongst the openings. If you're not getting bit, then make a move.

With a tip up out, I like to use an active method of fishing by also jigging for them. A medium-light action rod and six-pound test mono line does the trick nicely for me. Small, flashy spoons, body baits (such as the Chubby Darter or Rapala line) or a lead-head jig and minnow will all produce. I've found that by downsizing my lure, the more strikes I seem to garner. Experimenting with the cadence of your jigging is also good advice. Depending on the day, fish may want an active presentation or nary a movement. It's your job to figure out the puzzle.

Most bass mouth the bait or quickly suck it in on the weightless fall, but will pull like heck once hooked. A smooth drag and an eight-inch hole are definitely needed. Make sure to cover various depths when jigging for largies, and always concentrate your efforts in or near the weeds.

Ice fishing for largemouth can bring a new twist to the sport we all love. Once you lip that first bass at the hole, I can guarantee you'll be hooked for life!

---
---
In This Issue
Icing Rainbow Trout
By Tim Allard
Pulling Largies Through the Ice
By Justin Hoffman
Red Pine Wilderness Lodge
This is one of the last, large lakes in Northeastern Ontario that is still classified as being remote, mainly due to the dam at the north end and absolutely NO ROAD ACCESS.
Product Showcase
GV Wooden Snowshoes
Get North! Stressed? need a vacation? -Visit Get North to find your Northern Ontario get-away!
Fishing Lodge Classifieds -Come fish your heart out at one of these many Lodges, Camps and Resorts.
Archived Articles - Click here to see articles from past E-Magazines