Biking For Bass By Tim Allard
It had been a stressful day and I wanted to unwind outside and be near water. I didn't have enough time to take my boat and go fishing, so I opted for the next best thing. I grabbed a few lures, strapped my fishing rod to my bike, and peddled to a few shoreline fishing spots along a bike path.

I decided to fish a sandy flat for some topwater action at dusk. I got a few smallmouth bass that smashed the floating lure and the last one hit just as the sun set. By now it was time to head home. Setting off at a steady pace, I breathed the cool, evening air and watched the warm light bathe the cityscape. The scene was enhanced by the fact that I spent my evening fishing within an hour bike ride from my urban home.
Simplicity in Fishing
Sometimes keeping things simple is best. Fishing is no different. Sure, I love my boat, but occasionally it's not worth the hassle of towing it in traffic, putting in at a busy launch, and unloading gear at the end of a long day. Cycling a pathway and fishing from shore is a simple angling alternative with many benefits.
A bike lets you cover greater distances than walking alone; with wheels you can quickly travel to and fish several spots in a short period of time. It's also a versatile activity and one you can easily do solo or with your family. With my bike it's always easy for me to squeeze in some fishing into my busy schedule. Of course, an added benefit is the exercise you get from this environmentally friendly form of transportation.
Getting Started
Outfitting your bike for fishing is easy, especially if you already own some cycling gear. Although I cycle to work and use panniers, I prefer a backpack when fishing. This way all my equipment (lures, camera, snacks, etc) is on my back and easily accessible. I also find a backpack more functional when I'm walking an uneven or rocky shoreline.
Any daypack will do to transport your gear. Make sure the pack is the right size for your fishing tackle and some extra gear. I like packs with side zippers, so I can quickly get at gear at the bottom of the bag. Cycling backpacks can be handy, especially ones with shock cord systems for storing a helmet and side pockets for water bottles. With a backpack you can carry all your gear and you won't need to leave any behind with your bike.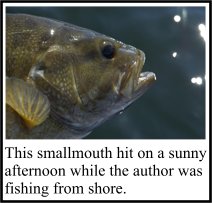 I don't take my one-piece fishing rods out when I go biking for bass. They make cycling awkward (especially when you're peddling fast) and I don't want to risk breaking one. To me, a two piece rod is a lot more functional, although sometimes limiting in the baits you can properly fish.
To transport my fishing rod, I use the same system I have since I started biking and fishing from shore. I place both pieces of a two-piece rod along the top tube of the bike frame, ensuring the rod is positioned between the two brake cables below the handlebars. This way it won't interfere with your steering. Next, I secure the rod using Velcro rod wraps. These re-usable wraps cushion and keep the rod in place during travel.
Most of the time I pack a variety of lures to fish all levels of the water column. I often take some topwaters, soft- or hard-plastic jerkbaits, crankbaits, spinnerbaits, and jigs. I like carry fast retrieve baits that I can use to quickly work a shoreline as well as fineness presentations in case the fish aren't in an aggressive mood.
Choosing a Route
In many cases, the route you choose is dependent on what paths and water are close to your home. Most towns and cities have maps, many of which are free, of the recreational pathways in the area. Pick up a few of these and you can quickly locate some productive stretches near water. Next, it's a matter of grabbing your bike and exploring the shoreline.
Cycling and Urban Angling Cautions
Although biking and angling are rather safe activities, here are a few things to keep in mind. When fishing from shore, be cautious around current areas as some fast-water sections of rivers can be deceivingly calm. It's also important to respect shorelines. Use pre-established paths when exploring spots. Also, keep an eye out for natural and urban hazards, like poison ivy or broken glass. When fishing from shore and along pathways, heed "No Fishing" signs. Some areas, like bridges or private property, don't allow fishing.
You'll also want to ensure your bike is outfitted with proper safety gear, including a bell and reflectors. Carry bike lights if you intend to fish till dark. Bring a quality lock and make it a habit to secure your bike. And don't forget to bring your fishing license.
Recreational pathways aren't just for amateur athletes; they're also an artery to some amazing angling opportunities. So the next time you're itching for some fishing, hop on your bicycle and hit the paths.
Photos by Tim Allard
Bike.jpg: a bike, collapsible rod, some lures and a backpack are all you need to start biking for bass.
Smallmouth.jpg: this smallmouth hit on a sunny afternoon while the author was fishing from shore.