---
---
Largies on Rocks - The Flipping Jig Solution
By Justin Hoffman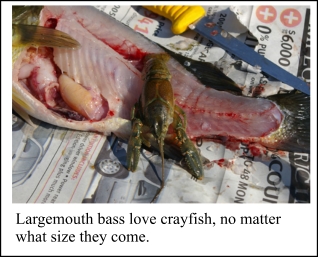 Largemouth bass and green vegetation have become a unanimous equation for locating and catching fish. Toss in some docks, laydowns and slop, and the basics of the bassin' game are seemingly covered. Or are they?
An overlooked and highly effective structure area for largies is rock, boulders and gravel - the same home-range that smallmouth bass relate to. And the secret to their residency relationship lies in a succulent morsel they both love to gobble up.
The Right Lake
Not all lakes are capable of holding solid numbers of largemouth bass on rock. Deep- water lakes make prime candidates, whereas shallow, fertile lakes are generally a poor choice. Think "Canadian Shield" style water, although they don't necessarily need to reside way north to yield the results you're looking for.
Many of my top lakes average 60 to 100-feet deep, are filled with clear water, and comprised of sharp breaklines and points, almost entirely composed of rock and rubble. Throw in the odd smattering of weed and wood, and you're definitely on the right track. The last component is the presence of crayfish. These fresh-water lobsters are the main reason largemouth situate on rock, and if the food source is strong, they certainly have no reason to vacate the area.
Pinpoint the Areas
There are certain variables that lend themselves to fishing largemouth on the rocks. The most important is that they can be caught here all day long. Although they may be shallower earlier and later in the day, midday periods will see a shift to slightly deeper water. On average, my most productive depths are between three and 15-feet. If the sun is up and the wind is down, fish on the deeper end of this scale. If conditions are opposite, definitely target the skinnier water.
Come fall time, the heat of the sun will warm up rocks and boulders, making these structure areas a magnet for largemouth. I've caught some of my bigger fish during numerous sunny October afternoons, basking in less than three-feet of water on rocky shoals and shelves.
So where should you look first? My advice is to start with shorelines that drop into deeper water fairly quickly. The kind when the boat is twenty feet from shore, and the sonar reads 30-feet deep. Largemouth will use these as feeding ledges, working up and down them all day long.
If you can find large slabs of slate or limestone rock, work it over thoroughly. Pay particular attention to the deep edges, as well as any areas where the structure immediately changes.
Shoreline points and shoals are also productive, as are any deep-access shoreline areas that have wood or stumps lying on the bottom. Fish will key in on this wood, and can often be found hovering just over it, or snug up against it.
Docks that are situated over deep rock are one of my favourites, and often harbour big fish in their secretive shade. The same goes for wood and rock cribs - a certain largemouth magnet. (Be prepared to get into some monster smallies at the same time!)
As I stated earlier, if you can find a spot that offers the fish a little something different, in all likelihood they will be there in excellent numbers. This can take the form of various styles and size of rock, sand / rock or weed / rock transitions, or a prime piece of wood stuck in the middle of the hard stuff.
Why Flipping Jigs?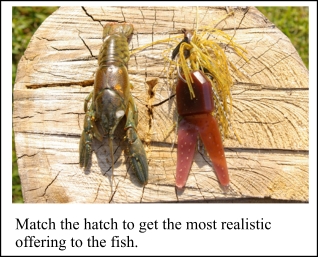 When targeting rock largies, my main weapon of choice is the flipping jig. This bait replicates the size, shape and movement of a crayfish perfectly, and allows you to cover this hard structure thoroughly and efficiently.
Start with a bait between ½ and ¾ of an ounce. Deep water or rough and windy conditions will dictate the use of the heavier jig, due to the better feel it will afford.
Matching the hatch is the name of the game when fishing the rocks, and duplicating a crayfish is the obvious goal. Browns, oranges and reds are my top colour choices, with a pork or plastic trailer that can mimic the pinchers of a craw. I also use a crayfish scent, and apply it liberally throughout the course of the day.
The technique I employ is quite simple. Twenty to thirty-foot casts are the norm, allowing the jig to sink to the bottom on a slack line. Reel up the slack, and proceed to slowly drag or hop the bait back to the boat, making sure to maintain contact with the bottom structure. (Largemouth act very much like a walleye on rock, and will stay within a foot of the bottom most of the time. If your jig is near the surface, the chances of getting bit are slim.)
Fish will hit a jig in a number of different ways. If they are very aggressive, you will feel a definite "pop"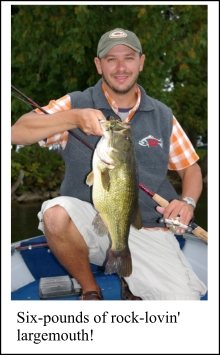 on the end of your line. At that point, set the hook hard. They may hit it with a "tap, tap, tap." My feeling is that they are trying to kill the crayfish when the attack it this way. The last way is for them to mouth the bait and slowly swim off. This is easy to distinguish, as you will feel a dead weight and your line will be moving off to the side. Again, rear back on the rod with all your might. Since you are fishing in deeper water, set the hook more than once to ensure adequate penetration.
Heavy flipping gear is the name of the game for working the rocks. I prefer a 7'6" heavy action rod, loaded with 20lb clear mono on a low-profile baitcasting reel. Deep water bass, especially those that are above four-pounds, can certainly pack a punch, and light action gear just won't cut it. These big boys will put a real bend in the rod, as well as take line when the drag is set tight, so don't shy away from the heavy gear. It's definitely mandatory.
My biggest largies over the years have all come from rock, including a 5lb 10oz and 6lb fish. It is an underutilized technique that can bring BIG results for those willing to put in the time.
Search out the rock this season, and give Mr. Bucketmouth a bait he can't resist. You'll be glad you did.