---
---
A Case for Quality Nets
By Tim Allard
To me there's nothing wrong with keeping the occasional fish for the table; however, most of my fish I release. Catch and release has been a mainstream practice for the past few decades. Most anglers are familiar with the basics of how to play, handle, and release a fish to ensure the best chances of post-release recovery. One tool that will keep catch-and-release procedures safe for you and the fish is a quality net.
Why a Net?
This year one of my fishing goals is to use a net more often to land fish. I've got a Frabill Power Catch for landing muskies that I use all the time for toothy Esox, but when it comes to bass and walleye, I've mainly been a man of hand landing. I've been changing that this year and there's a few reasons why.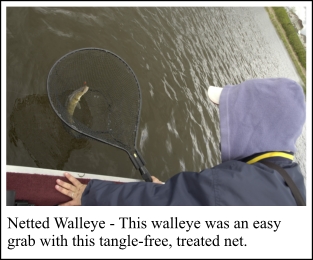 First and foremost is that using a net is a safer way to land fish than by using your hands. I have yet to have a fish sting me, but I knew someone last year who ended up with a hook buried in his forearm. He was about to land an unhook a fish in a manner he'd done dozens, if not hundreds of times. At the last second the fish jumped, driving a big hook into his arm. I'll spare you the details of the hospital surgery, but it's left him with permanent damage. This story (and the hospital X-Ray) planted the seed in my head to use a net more often this season.
Another reason nets are great is that a net often has a better landing-percentage than when grabbing a fish by hand. A quick scoop of the net will result in a landed fish. This also limits boat-side trashing, reducing overall stress to the fish. So beyond angler safety, using a quality net is also better for the fish.
The Importance of Quality Mesh
I want to point out that untreated, knotted nylon nets can be harmful to fish. These nets can remove a fish's protective slime and damage scales. This situation gets worse when fish get tangled in the mesh. So, those old, blue, nylon nets are great if you're keeping fish, but aren't good tools for releasing them.
Contrasting non-treated nylon, many of today's net manufacturers, like Frabill or Beckman, have designed various nets with catch and release in mind. Most netting is either treated nylon or rubber to ensure minimal removal of slime from a fish. A good net will also be knotless, which reduces the chance of fish injury. Another great feature to look for in higher-end models is tangle-proof netting. This material is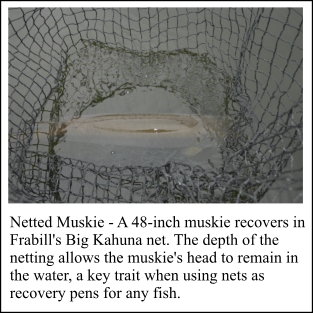 treated with a coating that will prevent lures from hooking into or tangling the mesh. Tangle-proof nets are worth the extra cash; you'll get your money back the first time you use it in freezing temperatures or in rough waves.
Nets as Pens
A habit becoming increasingly popular with many anglers is using a net as a recovery pen for fish. You can remove hooks while the fish remains in the water. If you don't have a live well or if a fish is too big to fit in the one you do own, using the net as a pen will let you ensure the fish is fully recovered before releasing it.
There are a variety of options on today's market when it comes to quality catch-and-release nets, making it easy to find a model suited for your target species and price range. Consider using a net more this season. They're a safe and effective way to land fish and ultimately reduce the chances of injury to both fish and angler.
Photo Caption Sheet
All Photos by Tim Allard
Netted Muskie - A 48-inch muskie recovers in Frabill's Big Kahuna net. The depth of the netting allows the muskie's head to remain in the water, a key trait when using nets as recovery pens for any fish.
Netted Walleye - This walleye was an easy grab with this tangle-free, treated net.