"Muskies on Top"
By Justin Hoffman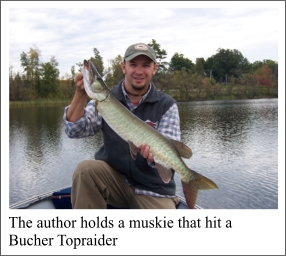 In the angling world the mighty muskie reigns supreme, conjuring up images of razor-sharp teeth, truly immense size and extraordinary power.
For the avid anglers who are part of the muskie fraternity, fishing for these giants has become an obsessive trait that has literally turned into a way of life.
Although muskies can be caught with a variety of lures and techniques, nothing can quite match the sheer excitement and thrill of utilizing a surface presentation. Playing a well-orchestrated game of "cat-and-mouse" makes for an interesting and productive time on the lake and, when the water erupts in a shower of spray, there really is no better feeling to be found in this sport we call angling.
Location is Key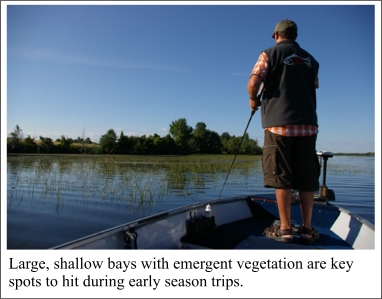 When it comes to fishing topwater baits for muskies, one specific location is always part of the equation and that is shallow water, from the shoreline out to about 12-feet deep. Of course not all shallow water is created equal. You can significantly increase your chance of success by targeting specific areas within the skinny zone.
Things to Look For
1. Vegetation-rich bays, points, shallow reefs and distinct weedlines are great starting spots but, to up the odds even further, concentrate your fishing on anything that appears different in comparison to the surrounding area. Transitions from weeds to sand or rock; people and boulder combinations; isolated cattails; logs, stumps and fallen trees are all prime examples of something out of the ordinary that will hold fish.
2. Weeds should be green and healthy, with clumps, pockets and distinct edges present in order to attract muskies. Muskies are ambush feeders so look for them to hold on the inside or outside edge of the salad, waiting for anything edible to swim by.
3. Pay particular attention to areas that have nearby access to deeper water. Muskies will wander back and forth between deep and shallow, using the shallows as feeding areas and the deeper spots for resting.
Timing
Although topwater fishing for muskies can be effective during both warm and cold-water periods, the technique is most effective when water temperatures are above 58 degrees F. As water temperatures climb, so does a muskies metabolism, making it more likely to be aggressive and willing to bust a bait on the surface.
One of the best indications that a midday surface bit might happen is when warm temperatures and overcast skies are accompanied by southwesterly winds, generally a sign of an approaching front. For whatever reason, this combination really seems to stir up a muskies activity level. In shallow, fertile lakes concentrate on large expansive bays during this peak time, drifting with the wind and covering as much water as possible. On deeper shield lakes, head to wind-blown points or islands to cash in on this feeding spree.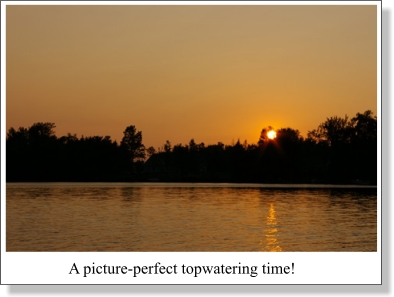 Fishing during the graveyard shift is another productive time to be out on the water. Boat traffic will be non-existent, and the lake will truly become yours - except for sharing it with the odd pesky mosquito! I prefer to frequent many of my daytime haunts during the night, and have found that both rock and weed locations will produce well. Sandy beaches and swimming areas have also accounted for some BIG fish over the years, so don't overlook these high-percentage areas when out in the dark.
The Pro's Perspective
Steve Wickens, who operates Strike Zone Muskie Charters out of the Kawartha Lakes region, has seen first-hand the merits topwater baits can bring to the muskie angler.
"My favourite topwater baits would have to be the Suick, Cisco Kid Topper and the Hellraiser Cherry Twist. Occassionally, I will also toss a Hi-Fin Creeper or Arbogast Musky Jitterbug."
When it comes to short-striking fish, Steve has a plan of attack that has proven itself over the years.
"My favourite tactics I employ on misses, depending on the size and aggressiveness of the fish, are to cast back to the area using a spinnerbait, and bulge it through the area at a fairly high rate of speed. If I suspect the fish is very large, I will cast back with a spoon, and use a combination of lifts and twitches to work it through the same area."
Richard Collin, operator of Ottawa River Trophy Muskie Charters, is a firm believer in the magic that topwater baits can provide.
"My favourite lure to use would have to be the Bucher Topraider, as this bait works well in all conditions and covers the water quickly and thoroughly."
Richard believes that early morning periods and just before dark are the optimum times to toss topwaters, and has had his most success during the early spring and summer months.
Tips and Tricks
1. When fishing topwater baits for muskies, slow to medium retrieve speeds generally give the best results, but it's always a good idea to experiment. Sometimes muskie will be tuned in to a specific speed or retrieve and getting it right can mean the difference between catching fish or washing baits.
2. If a fish is spotted following your bait, the best course of action is to continue your retrieve at the same speed, gradually increasing the momentum as the lure gets nearer to the boat. Once at boat side, a quick ninety-degree change of direction with the lure, followed by a figure-8, will often get that curious fish to lunge.
3. If you raise a fish but it doesn't hit, try a few more casts then slip away and let the area quiet down for an hour or so. When you return, try throwing a different style of topwater bait. Oftentimes giving the fish a rest before offering another type of bait will get it back in the mood to strike.
4. Try suddenly altering your bait's speed in mid-retrieve by sweeping your rod up or to the side, dead sticking your bait, speeding up or slowing to a crawl. Unexpected changes in the pace of the retrieve will often trigger a lethargic fish to action.
5. When it comes to setting the hook, many anglers stare defeat in the eyes due to the fact that they strike far too early. Although the natural instinct is to haul back on the rod at the first sign of a splash or a lunge, having the patience to wait until the fish has the bait in its mouth is the only way to ensure a solid hook set.
6. Calm conditions, with little or no wind, call for surface baits that exhibit less noise and speed. Walkers, creeper-style baits and surface running jerk baits all fit the bill here, and are mainstays when the wind runs out of steam.
---