---
---
Spring Bluegill Micro-Crankbait Tactics
By Tim Allard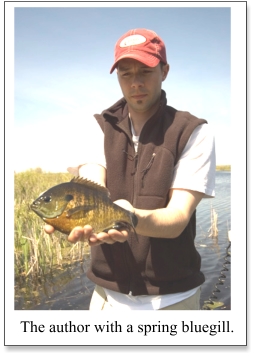 Come spring, many species of the sunfish family move to warm, shallow water to spawn. Bluegills are no exception, and targeting these scrappy fighters with ultra-light tackle is an amazing way to spend a sunny, spring afternoon. Several lures will fool bluegills come spring, but sight fishing with micro-sized crankbaits lets you precision fish schools and target the largest fish.
Location and Sight Fishing
It can take some time to hone-in on the location of bluegills in a lake. Shallow, protected bays between two to six feet deep are best. Look for stumps, sticks, gravel and sand as prime spawning habitat. Polarized sunglasses will be critical to initially spot schools of bluegills, and then be able to cast to them with accuracy once located.
Working the Herd
I started targeting bluegills with crankbaits after one particular outing. A friend and I were using micro-jigs on slip bobbers. We found we missed the larger fish as smaller fish seemed to crash the jigs faster than the big 'gills. After switching to crankbaits, we were able to quickly work the area quickly and steer our lures towards the big ones.
Another benefit of crankbaits is that you can work them faster than floats. When a smaller bluegill targeted our baits, we'd quickly reel it out of reach from the pint-sized fish. Trying a similar tactic with floats will result in a lot of unwanted water splashing that may spook a skittish school.
Precision Casting
Having a bait splash directly overtop of a big 'Gill in skinny water will likely spook the fish and the school. Cast cranks ahead and past large bluegills. This lets you work the bait towards the strike zone of an unsuspecting fish. The strike zone of fish will vary based on water temperature, time of day, light conditions, and whether or not you've spooked them as you've come into shallow water. Also, don't be afraid to mix up the retrieve between stop-and-go and straight swimming.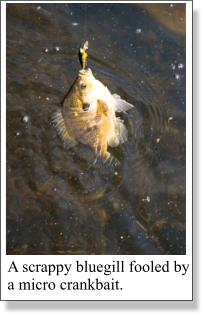 Great Crank Options
There are many micro-crankbait options on the market. Good choices include small lures sold as "micro" or "tiny" crankbaits between 1.5- to 2- inches in length. Pay attention as well to the hook size on the baits, as you'll want small hooks that will fit in bluegill's tiny mouths for the best hooking percentages. Also make sure you keep hooks razor sharp for optimum hook penetration. Although hot colours, like fire tiger, can have their place, I've had a lot more success with natural coloured baits in skinny water.
Casting Set Up
I use a five foot, ultra-light spinning rod that can handle the small pull of crankbaits. I use 4-pound fluorocarbon line. A small, spinning reel is all you need to hold enough line for casting these baits. Part of the fun of this style of fishing is the simplicity of it; you can fish for the whole day with one rod and a few baits.
Try using micro-crankbaits for bluegills this spring. You might be surprised how these baits will take larger fish when compared to tiny jigs. Lastly, although bluegills are tasty, practice selective harvest and release larger fish so they can pass on their "big fish genes" back into the gene pool during the spawn.