Fall Muskie Casting
By Tim Allard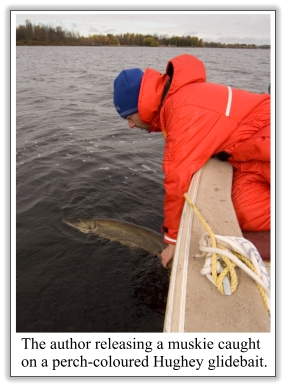 Fall is a transition period and as autumn leaves change colours, many anglers switch almost exclusively to trolling for muskies from late September to ice-up. Yet the fall still holds plenty of casting opportunities and it's the season for trophy fish. Casting in fall conditions is tough going; the trick is using effective baits for the cold water conditions. Here's an overview of some top fall casting baits with some tips from three Ontario, muskie anglers.
Jerkbaits:
You should consider jerkbaits as mandatory lures for any autumn outing. The surge-and-pause action on lures like Bobbie Baits or Suicks appeals to the sometimes sluggish disposition of fall muskie.
Gene Kennell, a well-versed muskie angler from Ottawa, Ontario explained, "The key to working jerkbaits is long, slow pulls, big pauses, and long hang time. The more hang time the better," he said. This hang time gives muskie an opportunity to move in and inspect baits. The next pull of the lure often triggers hits.
There is no wrong place to cast jerkbaits in the fall. Prime areas include deep, healthy weedbeds, sharp breaks, and points near deep water. Having weighted models is important to be able to count them down to effectively work deep structures.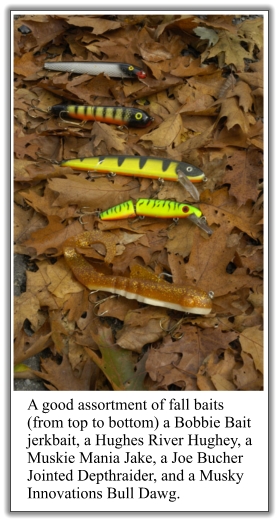 Glidebaits:
Glidebaits are another good fall choice. They don't require long pulls of line like jerkbaits. Rather they're worked with a short twitch, followed by a pause on slack line. This causes the bait to dart and swim to one side. On the next twitch it will cut to the other side.
Stacy Ash, owner of Pro Tackle Musky Charters in the Bay of Quinte area explained, "Glidebaits give off a slow, dying baitfish action. Their slow presentation can trigger strikes." He also notes that because baits dart out to the side, it gives them a large profile, which is a big-time fish attractor. Popular gliders include Sledges, Hughes River baits or Phantoms.
I've found glidebaits to be particularly deadly over top of deep weedbeds. They also do well anywhere you'd throw a jerkbait.
Minnowbaits and Crankbaits:
Hedrick Wachelka, Muskies Canada Hall of Fame Member and an avid fall caster, likes baits to maintain a relatively straight trajectory when retrieved. The straight path makes it easy for muskie to hone in and hunt the bait. Beyond jerkbaits, minnowbaits, like Musky Mania Tackle's Jakes or Grandmas, are two of his top choices for fall casting. He works them on a straight retrieve with the odd twitch.
Wachelka also uses crankbaits, like Musky Mania Tackle's Ernies or Joe Bucher's Depth Raiders, to get down deep near the edges of structure. These baits trigger hits when banged along rock piles or fished on a stop-and-go retrieve. He uses baits in both straight and jointed models.
Plastic Baits:
Lastly, large, weighted, plastic baits or swimbaits, such as Muskie Innovation's Bull Dawgs, Castaic's Swimmin' Sardine or Storm's Wildeye Swim Shad, are fall favourites for many anglers. Extremely versatile, these baits can be brought in on slow, steady retrieves, or allowed to sink to a certain depth and then brought in on a rise-and-fall pattern. Additionally, they can be fished like giant jigs, making them an excellent bait to probe deep holes or drop offs.
Slow Retrieve:
Regardless of the type of bait, all three anglers expressed the importance of working them slowly. Wachelka said, "Fish don't feed as frequently in the fall as they do in summer, so you need to give them a presentation they won't miss." He notes working baits too quickly is a common mistake many anglers make come autumn.
Although there are a variety of baits to cast in autumn, one factor always remains constant - the importance of powerful hook sets. Cold-water strikes range from subdued, with the sudden feeling of extra weight on the line, to shoulder-socket jarring. Act quickly and drive those hooks home. Fall is trophy time and you might have just hooked the biggest fish of your life.
---