---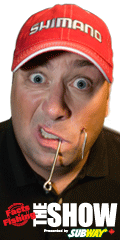 ---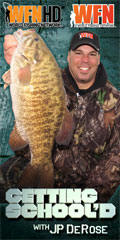 ---
Editors & Publishers
T.J. & Monique Quesnel
The Ontario Fishing Network E-Magazine is published 12 times a year on or near the beginning of every month. Our magazine is geared to any angler who enjoys fishing of any type in the wonderfully diverse province of Ontario.
Editorial Submissions: We welcome query letters, but assume no responsibility for unsolicited materials.
Subscriptions: Subscriptions are FREE of charge and delivered via email.
You can subscribe HERE:
Privacy Policy: Unlike other publications We NEVER make our subscribers list (your email address) available to any other companies.
Advertising: If you are interested in advertising please email us.
Circulation - 10,700 email subscribers
© 2009 Due North Marketing / Ontario Fishing Network / T.J. Quesnel. All rights reserved. Reproduction of any material without prior written permission strictly prohibited.
Soft-Jerkbait Tactics for Deep Water Smallmouth Bass
By Tim Allard
If you havenít tried using soft-plastic jerkbaits for deep-water smallmouth bass, youíre missing out on a deadly tactic. It might seem unorthodox to work a bait running a foot below the surface in deep water, but it works. To survive, smallies need to be aware of their environment and for them to skyrocket 20 feet to hit a vulnerable baitfish frequently happens on many lakes Ė soft-jerkbaits are one way to capitalize on this trend.

Feeding Spots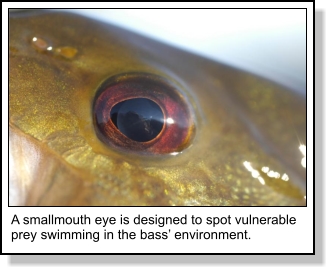 Smallies relate to deep water because food is nearby. On many medium to large lakes, smallmouth typically follow baitfish schools, corralling and attacking them to feed. Prime feeding areas include mid-lake shoals, narrows, islands or rock faces located near the main lake basin. When the smallmouth are wound-up and chasing baitfish, a soft-plastic jerkbait replicates their prime food target.

Tombstone Data on Soft-Plastic Jerkbaits
If chasing food, there might not be much difference in the success rate of a number of baits, like topwaters, spinnerbaits or jerkbaits. If itís on the path of a feeding smallie, theyíll likely crush it. Yet, after the feeding frenzy has subsided, some smallmouth will remain, looking for wounded baitfish. In this scenario, using soft-plastic jerkbaits can fool a few other fish.


Jerkbait Rigging
I prefer to Texpose rig a soft-plastic jerkbait. This is a Texas-rig with the hook point exposed. I use a wide-gap hook between 2/0 to 3/0 in size depending on the baitís length. The bait must be rigged straight for a natural fall. Crooked rigging will result in a bait frequently gliding to one side.

When starting this technique, pick one style of jerkbait and learn its characteristics. Once youíre proficient with the presentation and understand how to properly manipulate one brand, then itís time to try other ones. Each brand of jerk bait has a slightly different sink rate, action in the water, profile, and color pattern. I have about four brands of soft-jerkbaits I use depending on the kind of presentation I want.

How to Fish Them
When it comes to retrieving jerkbaits, itís not too difficult if you keep things simple. Lightly twitch and drop the rod tip downward. Quickly return the tip to the starting position to give the
bait enough slack line to fall on a natural-looking glide.

Another method is keeping your rod stationary and cranking the handle. Add a long pause, then crank again. This retrieve gives the bait an upward swimming motion mixed with nose-dive drops. Experiment with the number of reel cranks needed to get the right presentation, which is influenced by the reelís gear ratio and spool size.

A variation on the above technique is working soft-jerkbaits the way you would walk-the-dog with a topwater bait. Keep the jerkbait just below the surface. You can work this presentation on a medium to a fast pace retrieve. This variation will fool conditioned smallmouth. Itís particularly good on dead-calm days when fished over deep water humps or around rocky points.

One last retrieve style I sometimes use is quickly twitching baits. Use a weighted hook. The bait should occasionally skip and hop out of the water. Thatís the presentation. Just donít overdo it. The bait should imitate a shad trying to elude a predator. Every so often, add a pause to this presentation before twitching again. This tactic works well in calm or water with a slight ripple.

Set Up
I like using a rod with an extremely subtle tip. This ensures the bait has a natural swimming motion. Match the rod with a reel spooled with 30 pound-test braided line. The no-stretch line helps you detect bites.

One downsize to braid is itís fairly visible in clear water. For this reason, Iím experimenting with fluorocarbon. This line is virtually invisible in the water and although not as good as braid, has minimal stretch. Fluorocarbonís fast sink rate also helps baits drop quickly.

Donít be afraid to fish for deep-water smallmouth with a shallow-running jerkbait. These soft-plastic gems resemble and easy meal for smallmouth and will catch you a ton of bass.

---