---
---
---
---
---
Editors & Publishers
T.J. & Monique Quesnel
The Ontario Fishing Network E-Magazine is published 12 times a year on or near the beginning of every month. Our magazine is geared to any angler who enjoys fishing of any type in the wonderfully diverse province of Ontario.
Editorial Submissions: We welcome query letters, but assume no responsibility for unsolicited materials.
Subscriptions: Subscriptions are FREE of charge and delivered via email. You can subscribe HERE:
Privacy Policy: Unlike other publications We NEVER make our subscribers list (your email address) available to any other companies.
Advertising: If you are interested in advertising please email us.
Circulation - 7,500 email subscribers
© 2007 Due North Marketing / Ontario Fishing Network / T.J. Quesnel. All rights reserved. Reproduction of any material without prior written permission strictly prohibited.
Multi-Task Fishing Outfits (all about fishing rods)
by J.P. Bushey
Don't worry, this article has nothing to do with updating your boat wardrobe or shopping for fishing clothes! 'Outfits,' just refers to rod and reel combos. And in this case, each is worth carrying or investing in, because they're useful and really versatile, no matter where you fish or what you fish for. If you're into golf, these are the utility wedges. If you're a handyman, they're the multi-tools. What they lack in single-use perfection, they make up for in adaptability. These are the best of the 'second best at everything' category, and they're great to have.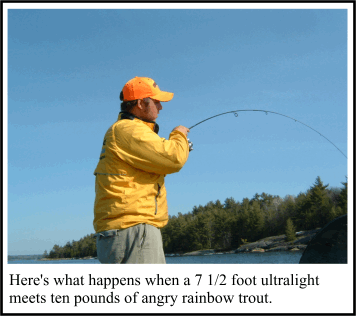 7' Ultralight Spinning Rod
I can remember when 'ultralight' meant five feet long and whippier than a piece of old yarn. Not the case anymore. More and more companies have seen the advantages longer rods have for light line, fish control and casting distance, and they've applied this to even their most delicate trout and panfish rods. (At the other end of the scale, many muskie rod companies make casting rods in eight, nine or even ten feet in length, for many of the same reasons). Rigged with a small, matching reel and light line, these outfits can be used for everything from portable downriggers for trout on small lakes to finesse fishing smallmouths to catching your own minnows in a local pond or creek. I have a couple and I use them in the spring for rainbows, lakers and panfish. They're equally useful with a small float and a baited jig or a little spinner or spoon. If you do any amount of fishing with kids or casual fishermen, wild fish-fight stories are only a fat rockbass or a smallmouth away. Everything you catch feels bigger and badder than it is, plus they give you excellent feel and stealth. Ever wondered exactly what those baitfish are you're marking in the summer? Tie on a #12 trout hook, add a scrap of worm or minnow flesh, pinch on a splitshot and drag it through them. They'll bite it. I've caught herring, smelts, lake shiners, perch and suckers doing this. Put down the big rods and devote some time to this at least once, what you learn will help you a great deal, and it's really fun.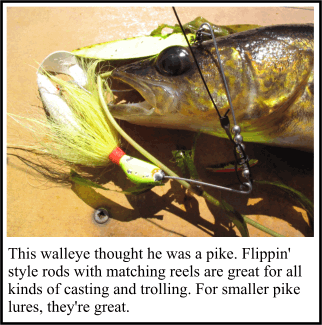 7 ½ to 8' Flippin' Stick
To be sure, not all of these are made with the same amount of taper or flex. Some are really heavy duty and others have softer tips and slower overall action. Both are actually good. Heavier than the average bass or pike casting rod, and lighter than a muskie-action rod, you can do a lot with one of these. For the reel and line, it really is your choice. To me, a medium capacity, round casting reel is almost perfect. Having a clicker is even better, because it opens you up to trolling. Something like a Shimano Calcutta 200 or a Garcia 5500. You can use them to drag heavy bait rigs or bottom bouncers for walleye, vertically jig big or heavy lures in open water for pike or lake trout, throw ¾ to 1 ounce spoons for salmon or trout off breakwalls or piers, almost anything. And of course, they're tailor made for the heavy going if you fish largemouth bass. In lakes where muskie are small and plentiful where you want to cast or troll small, five to eight inch lures, the right flippin' stick will work. Baits like ¾ ounce spinnerbaits, small bucktails or even little twitch baits can be handled with the right reel, line and leader on one of these rods. I've even used them to pull Dipsey Divers once or twice. The clicker is nice to have here. Flippin' sticks with softer tips make excellent float rods for live or deadbaiting pike in the spring, too.
8' to 10' Steelhead-Action Spinning Rod
Not a noodle rod or float rod, but one used by steelheaders for casting spoons, spinners or plugs. These are still long and still designed for lighter line and lots of shock absorption, but closer to a conventional spinning rod's action. They can fire lures a mile, and they hit back when a fish tries one on, believe me. I personally like the ones with long, straight butt sections where you tape your reel on, but you're going to find companies like Shimano, St.Croix, Daiwa, Loomis and others all do things there own way with grips and reel seats. For walleye, these make outstanding slipbobber rods! You can lob out your rig gently, and reconnecting with your float and the fish after it takes off is really easy. Setting the hook is, too. 1000 to 2000 size spinning reels that really mow in the line are great here with monofilament or no-stretch line. The exact same package works awesome for long-line trolling minnowbaits or crankbaits all season. They load up beautifully pulling trolled baits, and fish have no chance of shaking free on that long, bouncy blank. I use the exact same presentation for lake trout and rainbows early in the season as well. Downrigging is another technique these outfits work well with. I also want to try them for flicking small tube jigs around cattails and beaver houses for crappie this spring, too!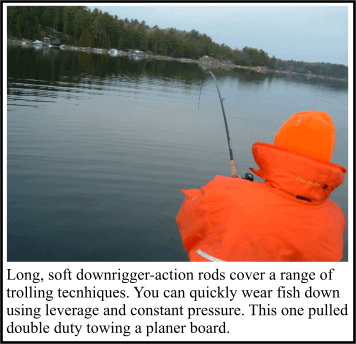 9' to 10' Downrigger Rod
Definitely not as versatile as the others when it comes to casting, but a long, whippy downrigger-action rod really is a must-have if you're a troller. For sure, they're right at home fishing with downriggers, but they bring more than that to the party. Their length and soft tip is ideal for trolling with inline planer boards for all species. With a linecounter reel and ten pound test monofilament, you can put baits anywhere you want vertically or horizontally, the fish will stay hooked, and the fights are normally really fun. The long rod helps setting out boards and swinging them in when there's a fish on. They keep constant pressure on the hooks, and you can pass the board to your partner easier so it can be removed to resume fighting the fish. Along the same lines, by bumping up to 14 or 17 pound test, you can pull many of the diving planers available, like Dipsey's, Deep Sixes or Jet Divers. The foam grips on most downrigger rods handle pressure from rod holders well. You'll routinely find good quality rods in this category for under forty dollars. A pair will almost certainly cost less than a mid-range graphite spinning or baitcasting rod. I even have some that I've added spring tips to, for wire-lining pike and muskie with deep diving baits in the eight to ten inch range, like Ernies or Hooker Seducers. They'll never win best-dressed, but are downrigger rods ever economical and serviceable!
I'm all for doing one thing well, and I'll be the first to tell you that attention to detail and choosing your gear carefully is a good idea. Getting a fish to bite is nothing more than the culmination of hundreds of small details that you set in order the second you get out there. But it sure is hard to argue with versatile equipment you use and enjoy all season in more than one way. I've always like the idea of being able to 'switch gears without switching gear,' so to speak. If nothing else, it makes packing for a trip that much easier and space-efficient.
---