---
---
Local Lure Manufacturers - Part Two
By Tim Allard
Last year I wrote an article for this newsletter on local lure makers. Since penning that piece, I've continued to look for even more great bait makers residing close to my home town. Here's the scoop on three Ottawa-area lure makers you might want to consider contacting to fill a void in your tackle box for the upcoming season.
River Rat Lures
In business since 2002, River Rat Lures specializes in muskie spinnerbaits. Although started as a bucktail tying trio, today most production falls in the capable hands of Ed Lalonde and Sam Hill. Both Lalonde and Hill are well-respected muskie anglers with many fish over 50 inches to their credit.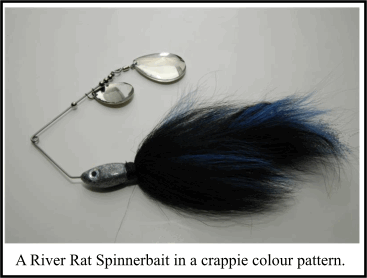 The benefit of River Rat Lures is their durability as they're made with 0.062" wire. These baits will take a pounding from high-speed trolling as well as the abuse that comes from hooking multiple muskies. Baits can also be used for casting.
A bonus for anglers who crave specific features is that River Rat accepts customized orders, letting you pick the color, size, and blade type. Baits are available through their website at: www.riverratlures.com .
Eye-Tracker Spinners
Anglers who surf walleye message boards, will recognize the username Eye-Tracker: aka, Sheldon Hatch. Hatch operates a guiding business and fishes the Master Walleye Circuit and Professional Walleye Trail tournaments. Hatch has been making his Eye-Tracker Spinners for the past 5 years.
"[The] spinners are handmade designs that are developed to be trolled in open water situations at 1.3 to 2.3 m.p.h. When walleye refuse to strike crank-baits they cannot resist the thumping sound of a spinner tipped with a crawler or artificial bait," the package reads.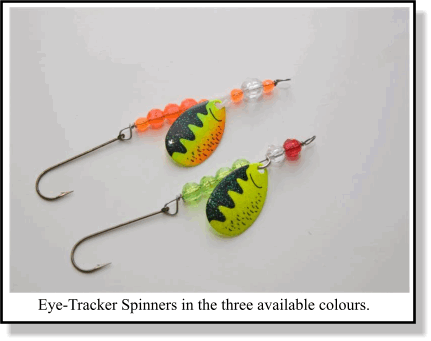 "The [spinner's] single hook increases the number of hook ups and the faceted beads reflect light like bait-fish. The clear crystal bead next to the blade adds an eye effect so the fish concentrate in on the upper section of the spinner resulting in less missed strikes," said Hatch. He also noted that the stiffness of the wire shaft will help the blade spin at slower trolling speeds. "The wire also resists zebra mussel abrasions," he added.
Spinners are available through Hatch's website: www.ezelo.com , or at Bennett's Bait and Tackle in Smiths Falls, Ontario.
Hawg Wild Baits
The brainchild of Steve Barnett, Hawg Wild Baits started in 2004 and specializes in soft-plastic tube and stick baits. Tubes come in two varieties. The Salty BronzeBack Series is a four-inch tube that's loaded with salt for finicky smallmouth. The Big Salty Hawg is a six-inch tube designed specifically for flipping for largemouth bass. It's big profile makes it a top-choice bait for trophy hunters. Barnett also makes his Salty Hawg Stix in either a four- or a five-inch size.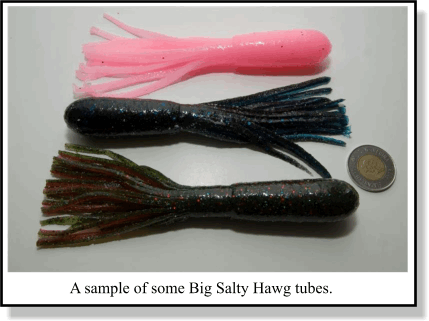 Baits come in standard colours, but anglers looking for a particular shade can order custom colours. Baits are available via his website: www.hawgwildbaits.com , or at Paddletales Tackle in Winchester, Ontario.
Consider giving some of these baits a try this season. Local lure makers' tend to focus on making a great fish-catching product rather than maximizing their profits from anglers. In other words, when you tie on one of these baits, you're fishing with a quality piece of hardware designed specifically to catch fish in local waters.