---
---
Getting a Child Hooked on Fishing
By Justin Hoffman
Angling is a sport that greatly enriches one's life. We can all still remember that first fish that tugged on our line, the spilt can of worms, or even the tadpoles dancing in the shallows. That infectious smile we wore all day - beaming with pride, joy and a sense of accomplishment.
Taking a child fishing is a wonderful way to get a youngsters love for the outdoors started. By following a few simple rules, you can make the day one that the both of you will remember for many years to come.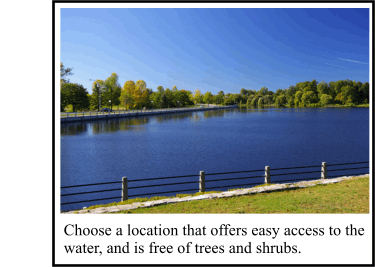 Where to Go
Although as adults we've grown to appreciate the hard fight of a bass or a muskie, children need to start small, with varieties of fish that are common and abundant. Panfish are the perfect choice, as perch, bluegills, sunfish and crappie are almost always willing to bite.
A local pond or lake is an excellent starting point. Make sure that the area you plan to fish is close to home, as long car rides will tire most youngsters out before the fun even begins.
The Ministry of Natural Resources has information on local urban spots for Toronto (including the GTA) and Ottawa on their website, which can be a useful guide when planning a day out. http://www.mnr.gov.on.ca/MNR/fishing/urban_ont.html
The spot you choose should have good shoreline access (if not using a boat). Grassy areas that are free of trees and shrubs are the best spots for kids.
What to Bring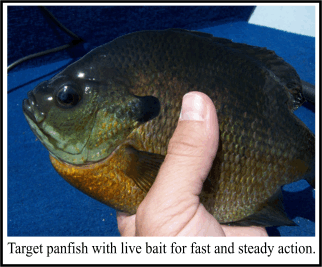 There are a few important considerations when planning your outing, and deciding what to bring can make or break the day. I always suggest leaving your own rod at home. You'll be kept busy enough unhooking fish, baiting hooks and unsnagging lures, that holding your own rod will only get in the way. Purchase a child's rod that is of the appropriate length. A spin cast combo works best, and is the easiest to begin with.
Make sure you bring live bait, long-shanked hooks and a bobber. Bait will give them the greatest chance of catching fish, and the float will make it easy for registering strikes. Aberdeen hooks are best when using worms, and will make hook removal much simpler. If the child gets bored with fishing, playing with the worms or minnows will also bring excitement. And if that's all they feel like doing, then join in the fun, as there are more aspects to fishing than just casting a line.
Folding camp chairs will make for a comfy day, especially if there are no benches at the waters edge. Remember that a junior-sized version is best for your pint-sized pal. Always bring a good assortment of snacks and juices in a cooler. Children have big appetites and there's nothing worse than running out of food out on the lake. Take time out for a picnic, and discuss the things you've done and find out what they liked best.
Fishing is much more than the physical act of catching a fish. It also involves taking in the scenery and wildlife, as well as the boat ride or splashing along the shoreline. (My greatest pastime was catching crayfish when the pannies stopped biting - my dad always brought a bucket and scoop for this thrilling activity.)
Take the time to point out various species of birds or animals you may see, and try to teach your child something about the world that we live in. The knowledge a youngster gains during the time spent growing up will become the habits and direction they choose later on in life - make sure it is a positive aspect you instill.
Safety is another concern that adults must be aware of when taking a child out fishing. Always make sure the child is wearing a lifejacket (in the proper size) and don't let them wander out of your sight. Children are an adventurous bunch so stick close by them at all times.
And always bring warm clothes, a wide-brimmed hat and sunscreen. Children's bodies are different than ours, and they need to be protected from the elements. That said, try to pick a nice pleasant day for your outing. We can put up with severe weather, but a child will just become upset and discouraged. A camera is always on the "to bring" list. Capturing those memories on film will reward you with everlasting memories for the years to come.
Taking a child fishing can enrich both of your lives immensely. If you don't have a child yourself, see if a neighbor's son or daughter would be interested in a day out. The sport of fishing is a positive experience, and one that is even more special when shared. Not only will you gain a new fishing partner, but also a whole lot of fun in the process.